Trinity University's annual week of events commemorating Martin Luther King Jr. kicked off with a lecture from Kathleen Cleaver, activist, former Black Panther and professor of law at Emory University, and continued throughout the weekend, culminating in over 100 students, faculty and staff joining the San Antonio community for the MLK March on the East side.
Cleaver's lecture on Jan. 11 focused on the importance of continuing the activism that her generation pioneered through the Civil Rights Movement. She encouraged students to use their youth and energy to take over the fight for freedom.
In an interview with the Trinitonian, Cleaver spoke of how important universities are in making change.
"Universities allow people to have opportunity — without necessarily being absorbed by family and work and other kind of practical responsibilities — to think and to learn and to formulate what it is they want to be," Cleaver said. "They're also a site where people can break up ideas that are controversial, where people can talk about what it is that they want to do and what they can change."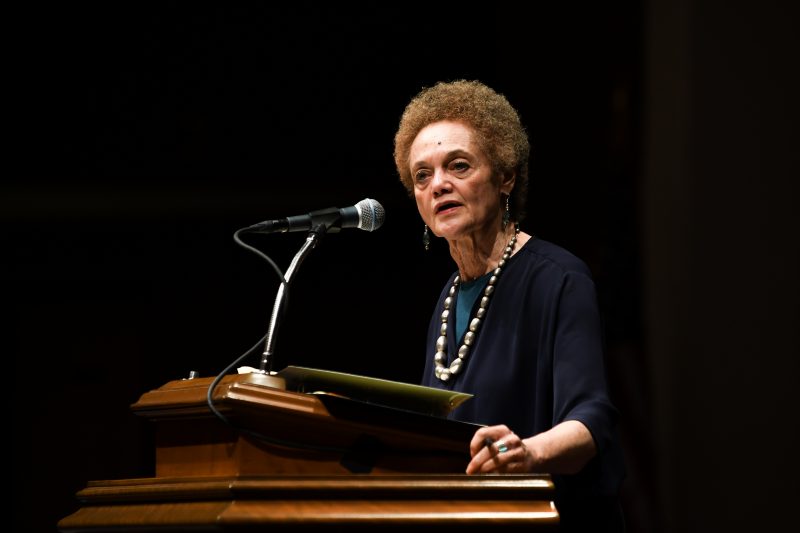 Cleaver also expressed doubts about the current political moment.
"This is a post-Obama time. People in my generation didn't expect to see a black man being elected president, certainly not one with an African name. The fact that a black family was in the White House was extraordinary, and hopefully that signals that there is a cultural shift, that America is becoming more intelligent. But this is America, so who knows. There's a lot of backwards ideas circulating in this country," Cleaver said. "There's a backlash when something truly transformative happens, so we are kind of going back and forth. A friend of mine used to say, 'America, you might be upset, but you'll never be bored.' "
However, when asked if she was optimistic for the future, Cleaver responded positively.
"Absolutely," Cleaver said. "Only because there are lots of young people in America, and young people tend to repudiate old people's ideas. That's the hope."
Yvette Peña, senior psychology major, introduced Cleaver at the lecture.
"I wanted to introduce her because I wrote a paper last semester on a speech she gave in 1968 about why black people were beginning to wear their hair in natural styles," Peña said. "When I found out she was coming to speak, I really wanted to meet her because it was an opportunity to bring to life what I had learned through my paper. I got the opportunity to connect the historical context that I had learned with her personal account."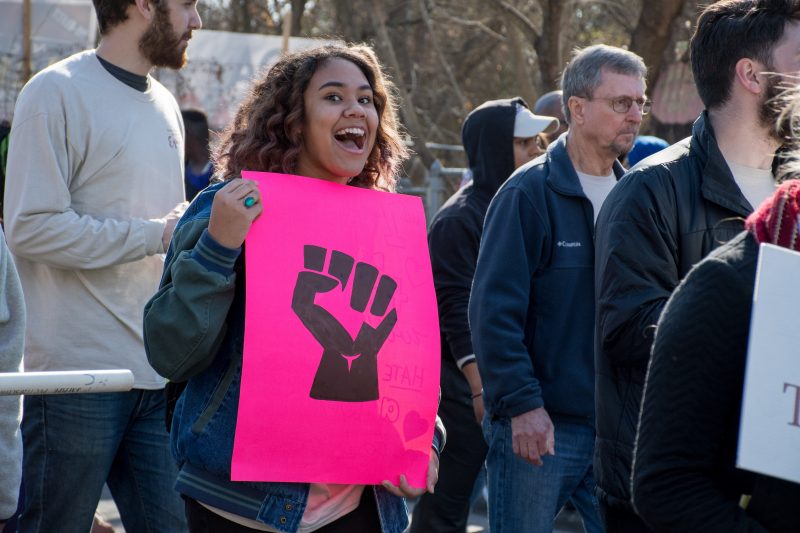 Throughout her lecture, Cleaver expressed amazement at the fact that the San Antonio MLK March is the largest in the country. Trinity students prepared to walk in Monday's march as they joined for a screening of the film "I Am Not Your Negro," and to make posters.
Tripp Wright, senior history major and member of the student planning committee for MLK Week, was present at the march.
"I'm marching today because it is important to support what MLK stood for," Wright said.
Wright marched among students from countless other Trinity organizations, as well as members of the faculty, staff and Trinity community. Amulya Deva, president of the Student Government Association, also participated in the march.
"The walking, the chanting, and the atmosphere forced me to reflect on the purpose of the march, to remember Dr. Martin Luther King Jr. as a nonviolent advocate for change. We still have many racial issues in this country, but he facilitated a big step in the right direction," Deva wrote in an email interview.
"This march is an important Trinity tradition and I felt compelled to march to get involved with the university, march to get connected with more of my classmates, and march for a man who so well reflects the values of my organization,"
Deva said.
Deva also mentioned how important it is for students to participate in events that are off campus.
"We often talk about the 'Trinity bubble,' the idea that Trinity University is somewhat isolated and separated from the rest of San Antonio, and that's true to some extent," Deva wrote. "During the march we are given the opportunity to surround ourselves with San Antonio residents who are expressing their voices and concerns. We not only get to march as a university for everything Dr. King stood for but also expose ourselves to other issues that are of concern in the San Antonio community. It is truly a bonding moment."