Over Christmas break, I had the opportunity to join 15 other Tigers and two faculty members on a two-week study abroad program to London, England. Leading up to the trip, I really didn't know what to expect. I had never been to Europe, had never experienced truly cold weather and did not know much about England (except that Meghan Markle and Prince Harry are adorable). I had so many questions I wanted answered.
Over the span of two weeks, I walked 113.81 miles, took over 600 photos, visited over 15 stadiums and attractions and rode the tube over 30 times. The trip was filled with hundreds of new experiences, and yet I feel as if I can sum the entire experience up in two words:
Bloody brilliant.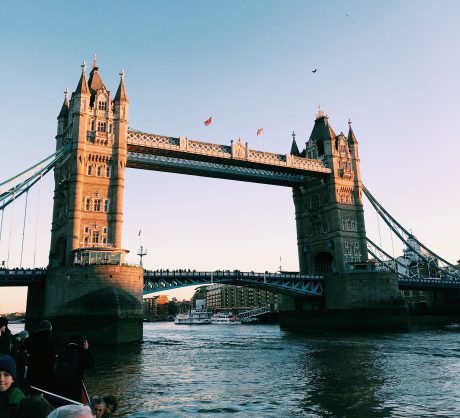 The Sport in London program provided me with the opportunity to take a look into the business of international sport. Seeing through the eyes of a Londoner completely transformed the way I understand sport and has allowed me to appreciate it on a much bigger scale than I had before. Between touring different venues, traveling to different cities, eating new foods and attempting to keep up with the typical London vocabulary, I learned more about myself and about the world than I would have ever expected.
The program was built and planned by Jacob Tingle, the director of Experiential Learning, and Paul McGinlay, the head men's soccer coach. Tingle and McGinlay crafted a class that took us all around London. The group was instructed to land in London on Dec. 27. Shortly after landing, we convened at the hostel, unpacked our bags and went through orientation at our host school, Arcadia University.
Our trip started off with tours of Twickenham Rugby Stadium, Queen Elizabeth Olympic Park, the O2 arena and Emirates Stadium, home of the Arsenal football club. Shortly after, our group had the opportunity to have lunch with a group of British college students, which was one of my favorite parts of the trip. Discussing the differences between American sport and English sport was fascinating.
Delving into the differences between cultures proved to be a learning experience that I would not have been able to access anywhere else. Tours of Wimbledon, Wembley Stadium, Loftus Road Stadium, Westminster Abbey, Stonehenge, the Roman Baths and Lord's Cricket Ground followed. Although the trip has ended, our London experience hasn't come to a close quite yet — every Wednesday, the class will continue to meet and debrief about our experiences.
Going on the Sport in London trip has allowed me to see places and meet people that I otherwise would have never came across. I now have 14 lifelong friends, friends in which I have hundreds of lifelong memories with.
As we were having our closing discussion, one of my classmates, Shelby Devore, mentioned that "every moment matters." As I reflect on our trip, I find this statement to be more and more true. Whether it was sprinting to try to catch the Tube on time, staying up until 4 a.m. playing card games, or singing karaoke at the top of our lungs, I cherished every moment abroad. I can honestly say I came back with a better, more thorough understanding of international sport. I wouldn't trade my experiences for anything, and spending two weeks across the pond was one of the best things I have done since coming to Trinity.