Trinity Women's Basketball defeated Austin College 95-82 last Saturday, Jan. 20. Micah Weaver scored 42 points, tying the Trinity single-game record. The following account of the preceding events is based on interviews with Micah Weaver, Cameron Hill and Abby Holland, correspondences with Becca Gordon and Jillian Cready as well as this reporter's own observations.
Senior Micah Weaver goes to bed Friday night and wakes the next morning with the same thought racing through her mind: Game Day.
Sophomore Abby Holland wakes up in her dorm thinking: Game Day.
In her apartment, senior Becca Gordon wakes up and grabs her phone. She tweets: "GAME DAY."
Weaver sips a cup of coffee, the first of many today. Holland eats a healthy breakfast. Trinity alum and team coach Cameron Hill irons a periwinkle button down shirt, his Michael McDonald Pandora station playing in the background. 
The Trinity women's basketball team meets at noon in Calgaard Gym to run through the game plan and practice drills. After the walk through, Weaver meets her father at Picnikins Patio Cafe. Gordon goes on an almost two-mile run. Holland dishes out extra money to eat something other than Mabee for lunch.
In his office, Hill is handwriting the game sheet. Near the top of the manila page, he writes "Do your best! Have fun!" On the back of the packet, Hill scrawls a single blue word: "Best."
Weaver is relaxing with her girlfriend Cheyenne in their apartment. Gordon is with her parents eating acai bowls. Hill is completing his game day pool challenge three times on a balcony overlooking an almost empty Calgaard.
Students, parents and fans are spread throughout the maroon seats of Calgaard watching the men's basketball team face Austin College. With 3:16 left in the first half, Coach Cunningham calls a 20-second timeout. Members of the women's basketball team leave to prepare.
In the trainer's room, Gordon stretches as a trainer wraps Holland's leg. Other athletes receive heat. In the locker room Weaver pulls a long sleeved black shooting shirt over her grey Nike uniform.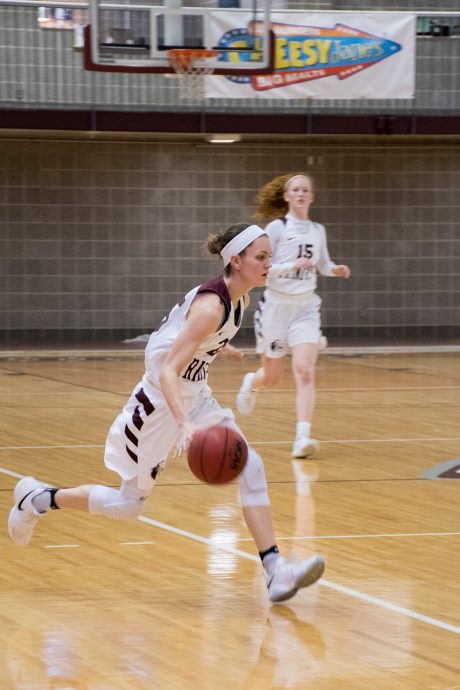 Senior forward Mollie Hughes arrives in Webster's gym. First-year guard Jordan Rudd grabs a basketball. Music coming from a small speaker mixes with the squeaking of shoes, ruminating throughout the wide expanse of Webster's gym and lofting to the walkway above.
Now in the locker room on a lower level of the Bell Center, Hill goes over the game plan. Hill says, "Their best is good. Our best is THE best."
"Our father, who art in heaven…." Sitting with arms crossed and pinkies linked, some players recite a prayer in unison. Others remain silent.
From his place in the hallway, Hill hears echoes of laughter. A lyricless hip-hop beat plays from a small bluetooth speaker. Sophomore Jillian Cready sings an original song she wrote for tonight while grad assistants Niaga Mitchell-Cole and Allison Staley dance behind her.
The team circles around Cready, who wildly dances and jumps as the players perform a vocal warmup: "Tabaketah, tabaketah, hay yee, tada!"
Standing in the far side of Calgaard Gym, the team watches the final seconds of the men's game, some cheering as Danny Rivera sinks a free throw for the final point of a 95-90 game, others too focused to respond. The final buzzer rings out.
Hughes grabs a basketball and starts shooting. Trinity junior Joel Holmes sways to the music. He holds up two small signs which read "Win or lose, we don't live in Sherman, Texas" and "Austin College has no running water." Two nearby reporters attempt to confirm this rumor, but find no evidence.
Captains speak to three male referees while the team gets shots up. Junior guard Rachel Chavez rebounds a lay up. Tossing the ball, she jogs to the top left corner of the star formation and high fives student assistant JP. On their way to the water cooler, the team trades high-fives with Cready, Mitchell-Cole and Staley.
Junior guard Jackie Layng grabs a green gatorade bottle off the small table. First-year guards Julie Ackerman and Annie Wise perform a complicated handshake as Hughes lifts her feet to wipe the dirt from her shoe.
Together the Tigers begin to clap. The crowd joins the steady quick beat. James Hill's booming voice calls out, "A senior guard from Southlake, Texas: Rebecca Gordon!" Gordon jogs to Cready for a rehearsed high-five. From the left stands, a Gamma screams "I love you Becca!"
Holland and Cready side-bump. Chavez gets a low high-five. Weaver approaches Cready, both give a cool shrug. Hughes runs past her teammates on either side, jumping up for a chest bump.
Huddled around Hill, the whole squad listens to his last remarks. They put their hands together and raising their arms, exclaim together "Tigers!"
Holland, Weaver, Hughes and Gordon line up at center court. Hill says a few words to Chavez, before she takes her place with the starters. Gordon says something to the referee, then steps back into place behind Hughes. Hughes stands at center court, face-to-face with her opponent.
A whistle blows and for one single moment the world is still, everything frozen but the basketball in the air. That moment has ended.
The ball is in play. The game has begun.