Study abroad paves a new pathway
Last semester, 10 students and one professor flew to Madrid for Trinity's first full-semester study abroad program, Trinity in Spain. Though the students were warned that they might not get credit for some of the classes, many were disappointed at how few credits they actually received.
In the program, the students took five classes. Of these classes, two were taught by Bladimir Ruiz, the associate professor of Spanish that joined the students in Madrid. Those classes count towards the students' GPAs, but were not brought to the University Curriculum Council (UCC) with credit toward Pathways.
The Pathways curriculum features three requirements: Approaches to Creation and Analysis, Core Capacities and Interdisciplinary Clusters. In theory, students can be credited for a Capacity from any institution; however, the Approaches and Clusters must be fulfilled through Trinity courses.
"The difference is that Capacities at Trinity are not necessarily the focus of the entire course. They may be included within a course in context," said Glenn Kroeger, associate professor of geosciences and vice chair of the UCC. "Every component of the Pathways curriculum has very well-defined student learning outcomes, and for a course to be approved, the course syllabus has to demonstrate that those learning outcomes can be achieved."
If a student can prove that a course at another institution fulfills a Capacity, such as digital literacy or written communication, the credit will transfer. Study abroad experiences also automatically fulfill the global awareness capacity. However, study abroad courses that are not taught by Trinity professors do not count towards the Approaches or Clusters.
"There's no way to know, without an enormous amount of work, that a course taken elsewhere would achieve all of those goals," Kroeger said.
This caused trouble for students who were part of the Trinity in Spain program, since this policy does not allow the classes they took with IES, a third-party provider that offers international education, to count towards Pathways.
"I know that you have to get your Pathways credits on campus, but what's disappointing for me is that I was going to use this for my Cluster," said Trey Foster, a junior business administration and Spanish double major. "I'm doing a film Cluster, and I took a film class while in Spain, but it didn't count because it wasn't at Trinity, even though this was a Trinity program intertwined with the Spanish department and everything. It's just a little disappointing."
Though it seems obvious that a course will fit a Cluster perfectly, such as Foster's film course for his film Cluster, Kroeger explained that the policy is more complicated than appearances.
"Right now, the curriculum says that the Cluster must be done at Trinity," Kroeger said. "The reason for that was that a Cluster is supposed to be a group of courses that are articulated with one another, that the faculty talk to each other and know what they're doing."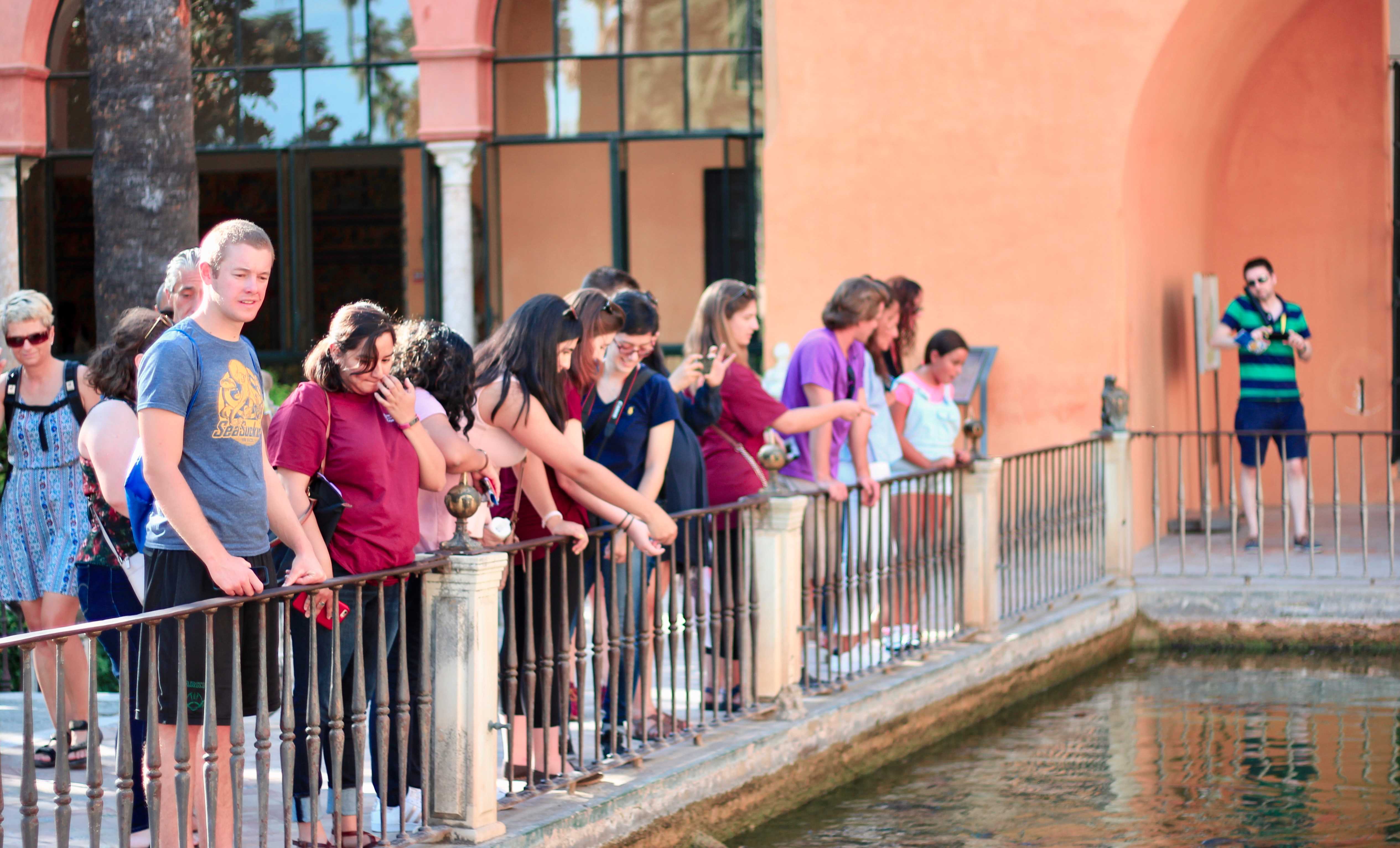 Kroeger acknowledged the inconvenience that this may cause for some students, and reminds students that they can design their own Cluster if a situation like Foster's occurs. To do this, a student must propose and provide evidence for the self-design Cluster to the UCC.
Prior to the trip, the students were warned that they might not receive credit for some of their classes. However, some students didn't realize the full meaning of this policy.
"I think the credit transfer process could definitely be more transparent," said Hunter Sosby, junior political science and Spanish double major. "I didn't have any issues with expecting Pathways credits because I knew from the beginning that I wasn't going to get any. I didn't, however, realize that not every class necessarily counts for credit for the Spanish major."
Sosby explained that for classes to count towards the Spanish major, they have to match the classes taught at Trinity.  To circumvent this, some students presented an argument for the classes to count towards their major prior to the trip.
Hannah Wilson, a junior Spanish major, is one of the students that took advantage of this opportunity. Because Wilson is a Spanish major, the transfer of credits worked in her favor. However, if the program doesn't count towards Pathways, it might make a study abroad experience problematic for other majors.
"For me, it worked out, but if I was, let's say, a bio major, it would really be difficult to translate those credits," Wilson said. "I think all of the classes were humanities courses."
Sosby agreed that this policy will dissuade some students from studying abroad or may limit how much time a student can stay abroad.
"I think the fact that it is nearly impossible to get Pathways credit abroad really hurts the study abroad program," Sosby said. "I was lucky because I found classes that would count for my majors, but I know other people who basically didn't get any useful credits for the semester."
Kroeger defended the university's decision to separate Pathways this way.
"All universities have what are called residency requirements," Kroeger said. "If you want a degree from Trinity University, you're expected to do a certain amount of your work here."
Kroeger, who was chair of the UCC at the time Pathways was created, explained that the idea behind this policy was to ensure students study all disciplines while at Trinity.
"We don't think asking you to take one social science and one humanities and one natural science course at the institution that is going to give you the degree is in some way an onerous requirement," Kroeger said. "The notion that someone would get a liberal arts degree from Trinity University and not have taken any social science or natural science while at Trinity makes no sense."
Ruiz recognized the appeal of receiving credit for multiple areas of students' education, but he thinks the concept is unrealistic.
"The whole idea of classes counting is … something that is in the university culture that needs some help," Ruiz said. "It's great to have one class that takes care of so many things, but at the end of the day, if you are studying at any university, you are supposed to be taking different classes for your major, for what common curriculum they have — we call it Pathways — and elective classes. The whole idea is that a study is supposed to take a wide variety of classes that encompasses knowledge."
Ruiz expressed the importance of the experience of study abroad over the specific credits students will receive from the program.
"There is a value of study abroad that shouldn't be necessarily measured by the ability to have those classes accepted or not by Pathways, which is not to say that we shouldn't do everything we can to offer classes that are more attractive to our students — not only in terms of the topic itself but in terms of what it might help them achieve in a curricular point of view," Ruiz said. "It's a balance, but at the end of the day, any student going abroad should have in mind the wonderful opportunity it is to have that experience."
Kroeger agreed with this understanding of the study abroad experience.
"The purpose of study abroad is not necessarily to fulfill the general education requirements of the institution that you're getting your degree from," Kroeger said. "All of us think studying abroad is a spectacular thing to do. We're thinking of ways of tweaking Pathways to allow a little more flexibility."
Kroeger explained that the discussion is still happening, but believes that before the semester ends, there will be a proposal to the UCC that addresses this issue. Ruiz explained the plan to have these courses count as Pathways credits in the future.
"The whole plan was to create the two classes, and then to have them submitted to the UCC," Ruiz said. "And that's a process that not only includes paperwork but also being available to be there at the meeting to answer questions and to advocate for the class and to make the changes you might need to make to have the class approved."
Katsuo Nishikawa, the director of the center for international engagement, explained other ways the department will try to make the course more accessible.
"What we're doing for next year is that we're bringing another professor, so we can double the Trinity classes that are offered," Nishikawa said. "We're thinking about this deeply. We're thinking about what's best for the student."
Since Trinity in Spain is the first program of its kind, the department has used students' experience to improve the program for next year.
"I'm very grateful to the students who are going on these programs. We're doing our best to have a good, strong program, and we have this mentality of continuous progress," Nishikawa said. "Each year is a guinea pig for the next, since we're always trying to improve."
Leave a Comment