Last week, 369 balloons decked the lawn in front of Miller Fountain for the third annual Tuition Stop Day. The event was hosted to promote student philanthropy and make students more aware of how donations affect their education.
Student Ambassadors  and Alumni Relations co-sponsored this event to take place on Jan. 24, roughly two-thirds into the academic year and the day that tuition stops paying for students' educations.
"Tuition only covers about 64 percent of the cost of each student's education whether receiving a scholarship or not," wrote Jim Stryker, associate director of annual giving outreach and engagement, in an email interview. "We marked the day by inflating 369 balloons of different colors to represent the almost 10,000 gifts to scholarships since seniors were in their first year at Trinity."
The balloons present varied in color to represent the different types of donations made. White balloons signified those worth $25 or less, while black balloons indicated gifts made by students themselves.
According to Student Ambassadors, each balloon represented 25 gifts, including 9,239 gifts to scholarships, with 150 white balloons for 3,777 gifts of $25 or less and 38 black balloons for students gifts. The balloons represented all donations since 2014.
Student Ambassador Cristian Vargas explained the displays' significance.
"It's a representation of the fact that today the money that students pay for tuition stops funding their education, essentially," Vargas said. "From now until May, whenever they graduate, or they're done for that year, all of that is done through donations. All of that is done to physically demonstrate the impact that donations have on the university; without donations, we would have to raise tuition prices or take fewer students."
To encourage engagement, students were invited to participate in a competition involving the balloons. Last week, Student Ambassadors announced the results: Nathan Horn, a first-year, guessed within 10 of the right number of balloons.
"I was surprised when I found out that I won the grand prize. … When they told me I was 10 balloons off I thought, 'Oh, I'm in the top 10 or 30,' but I didn't think that I got number one," Horn said. "I think that the alumni really care about this school and the students who go here."
As indicated by its competition, Tuition Stop Day paid closer attention to donations of a smaller size and amount this year.
"We wanted to put more focus on smaller gifts as well to let students know that really any gift — no matter the size — is important and beneficial to the university," Stryker wrote. "70 percent of gifts since 2014–2015 — when seniors first came to Trinity — have been $100 and under. All combined, that is about half a million dollars in direct support of students and Trinity."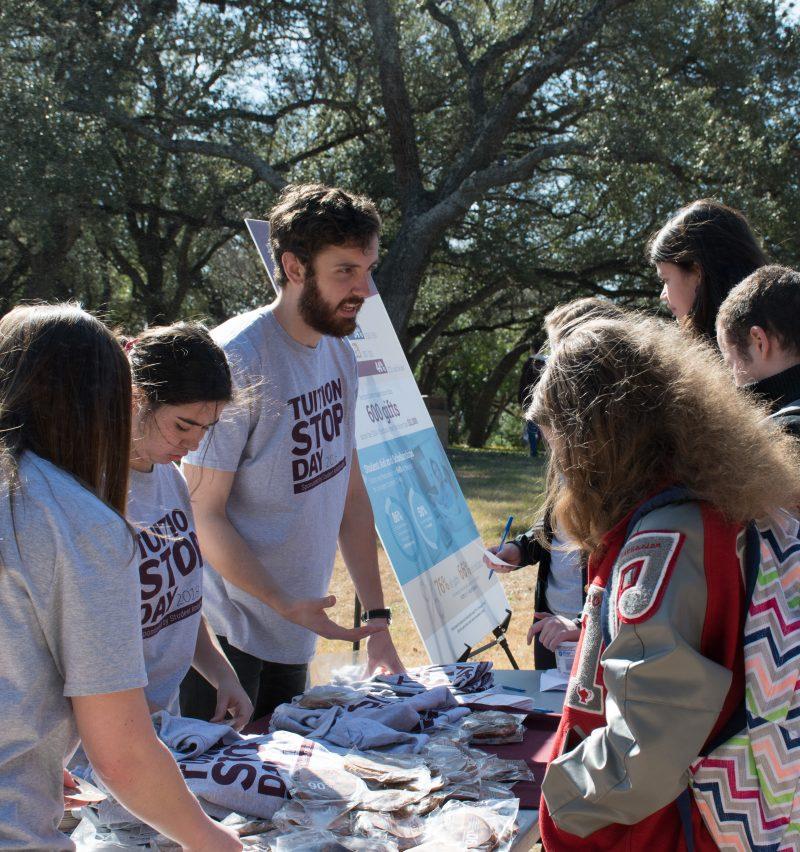 In total, approximately $10,000 was raised from over 8,000 students, parents and alumni. Showcasing these numbers on campus is meant to demonstrate the significance of donations, as well as to encourage students to donate as they approach graduation.
"Young alumni are probably the most important group that we can reach out to because it gets them in the habit of philanthropy and giving back to the school that gave them so much, and at the same time stressing the affordability of it," Vargas said. "All you have to do is make a small gift. … If everyone did that, it would add up so much more quickly than just relying on a few people to make big donations."
For students who did not have a chance to participate in Tuition Stop Day, Student Ambassadors also plans on hosting a week-long event called I Heart TU Week, set to take place during National Philanthropy Week. The event has similar goals.
"Throughout the week there will be games and events around campus with opportunities for students to win prizes. … At each event students will be able to fill out signs saying why they love Trinity and ways they can give back that will be hung throughout the week," Stryker wrote. "The goal is to further educate students on Trinity's long standing culture and tradition of philanthropy while offering students chances to directly give back."
For those interested in I Heart TU Week, the event will be held from Feb. 5–9 in various locations across campus, including the Coates University Center, Murchison Tower and Mabee Dining Hall.