Since its installation in the summer of 2014, the Murchison elevator has been critical in helping students access upper campus. However, the elevator breaks down frequently, making it hard for students with disabilities to navigate the hilly campus.
According to the university website, Student Accessibility Services (SAS) is the office tasked with providing students with disabilities "equal access and equal opportunity."
"Most of the students that register with Accessibility Services here at Trinity are students with invisible disabilities, so that can be anything from a medical condition that creates mobility issues, a learning disability, sensory disability, mental health disability — which is the growing category for why students register for accommodations," said Catherine Morell- Nickle, assistant director for SAS. "Accessibility services on campus don't reside in one office alone; it's a community issue."
Physical accommodations are only a small portion of the total amount of accommodations provided, as not all elements surrounding mobility barriers fall within the department, according to Morell-Nickle.
"Access is everyone's responsibility. Student Accessibility Services is a major piece for students who need equal access on campus, be it in the classroom, the living environment, [or] with curriculum," Morell-Nickle said. "The physical accessibility of the campus — my office can work with other departmental offices and facility services in planning, in thinking, in ensuring that things are accessible."
Facility Services is responsible for maintaining campus infrastructure, including the 39 elevators in academic buildings and dorms. According to Jim Baker, director of Facility Services, some of those elevators are currently undergoing renovation.
"The Thomas elevators are undergoing an upgrade," Baker said. "The first car, which is the one on the left as you're facing the elevators, should go back in service this Friday or next Friday. Then we will take the second unit down, and it will take another eight weeks to do that."
In addition to renovations and replacements, the elevators also occasionally break down or temporarily go out of order.
"The design of the elevator is to put it into safe mode until it can be fixed," Baker said, "If it's three or four days … we'll just post a notification on the elevator that it is down; if it's going to be longer than just a few days we'll contact ResLife to let them know there's a major issue."
Sophomore Taylor Volzer, who was on crutches last semester, expressed frustration with the lack of communication about elevator maintenance.
"[When] the Murchison elevator was broken — and that's the only way to get from lower campus to upper campus not taking the stairs — there was literally just a sign posted on the door that said, 'Out of order,' and that was it," Volzer said. "I was really struggling with Accessibility Services to find a ride up the hill, so I was just forced to walk, and again there wasn't an email sent out or any alternatives posted."
Baker says it can take Facility Services several days to even be notified that there is an issue with an elevator; not every break is reported. Last year, 172 work orders were filed, and only 11 were not resolved in the same day.
"Whether or not we notify students depends on the situation. We are especially attentive to the Murchison elevator, as it connects lower campus to upper campus," wrote Stephanie Ackerman, assistant director for housing operations, in an email interview. "[Residential Life] is not always notified of elevator issues, as requests are submitted to facilities services who handle the maintenance and repair. In the past, Facilities has notified us if an elevator is expected to be out for an extended period of time. If, say, Murchison elevator was expected to be out for an extended period, we would likely notify campus."
In cases where the elevators are not currently working, those encountering mobility barriers must seek other alternatives, not all of which are guaranteed, as noted by junior Osvaldo Veloz, who had been on crutches last semester due to a fractured ankle. Veloz had trouble obtaining an escort from TUPD.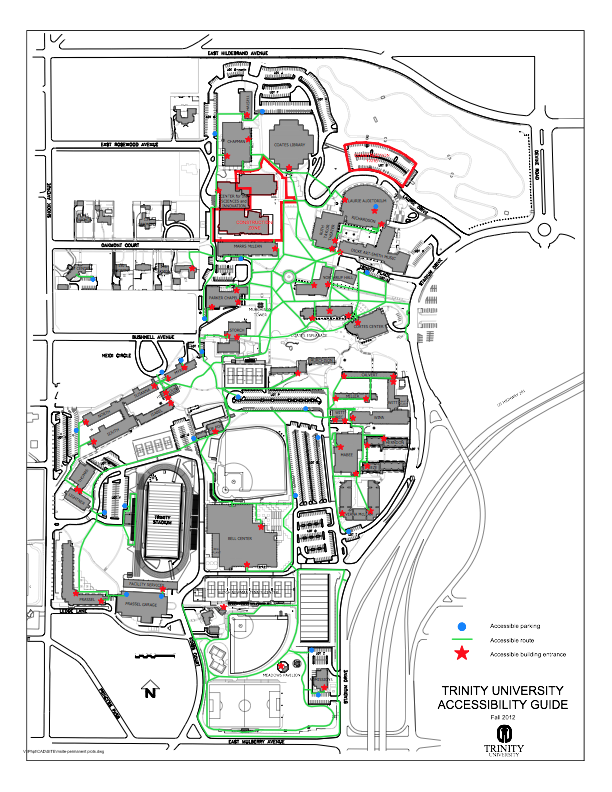 "Someone referred me to the non-emergency TUPD number and said that sometimes they'll give people rides, so I did that a couple times. … It was kind of inconsistent," Veloz said. "I'm not sure if it's because there's not a clear policy within TUPD about whether they do it or not, but it kind of just depended on who answered the phone to see what reception I'd get."
According to Pete Perez Jr., assistant chief, TUPD has no official policy in regards to providing rides to those in need of mobility assistance. However, escorts are sometimes provided.
Even those who are not students have to navigate Trinity's campus. Kerri Weathers, a Trinity parent who has multiple sclerosis and is wheelchair-bound, shared her difficulties.
"When we attended freshman orientation, it quickly became apparent that the Trinity campus would be challenging for a person in a wheelchair," Weathers wrote in an email interview. "I expected the hilly terrain, steps and stairs and some alternate routes. What I didn't expect was that the challenge would be locating the ramps and elevators, or finding student helpers that knew where they were located. We had to ask three or four volunteers to find someone who knew where they were."
Jenni Holman, a senior who has fibromyalgia, also shared difficulties in navigating the physical layout of campus.
"I feel there is a deficit of handicapped parking that is available to students," Holman wrote in an email interview. "This makes it really difficult to find spots that are open for myself as a student with a handicap sticker for my car. The centralization of buildings also means that parking lots frequently are situated pretty far from any building on campus, so even with handicap parking, it takes a lot of walking to get where I need to go."
For those interested in attending or visiting campus, Admissions attempts to provide accessible tours for the campus. According to Inka Boehm, senior tour guide, the office offers a walking tour, a walking accessibility tour and a golf cart tour for all those interested.
This article is the second of a four-part series addressing campus accessibility. Readers interested in contributing their stories are invited to contact this reporter at [email protected].