Trinity spent a total of $62,510,000 in academic areas for the 2016-2017 school year. Of that total, instructional services and research received $48,776,000, and academic support services received $13,734,000, according to VP of finance Gary Logan.
Funding departments takes a combination of tuition fees, outside grants and donations from alumni, though how that looks changes based on each department's needs and abilities.
Every year department heads meet with Academic Affairs to discuss the budgets for next year. Though the process is multilayered and requires several stamps of approval, it has remained relatively consistent at Trinity.
"Financial Services sends out a request for an operating budget to all the academic and administrative chairs or directors of departments, and there we ask — based on their own departmental assessments — what are the resources that you need to accomplish that?"  said Gary Logan, vice president for finance and administration. "So they send those requests back to their vice presidents. … The vice president's department will review those, probably go back and forth with their directors. They will prioritize those, and then they meet with the president and the budget committee."
The university's departmental budget usually is dependent on what resources are needed to keep a department relevant and functioning. This leads to science, technology, engineering and math (STEM) departments to have relatively larger budgets, mainly for equipment.
"The biology department has really high operational expenses 'cause we have expensive labs, and we have to maintain equipment, we have to travel a lot, we have research students and we want to take them to conferences, so some of that funding comes out of our grants," said Kelly Lyons, associate professor of the biology department.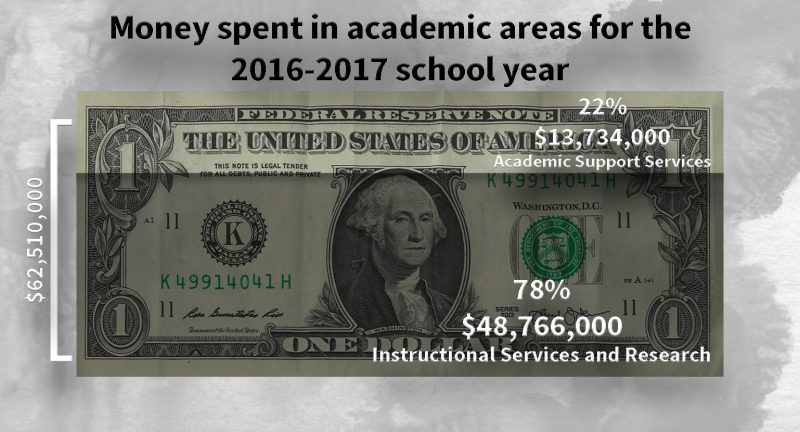 Dennis Ugolini, chair and professor of the physics and astronomy department, explained that most of his department's funding goes toward equipment.
"So it's going to vary for each department how that money gets spent, but for us it's largely chemical supplies, vacuum equipment, computer equipment for the cluster, things like that, so yeah, we're more equipment heavy than others," Ugolini said.
According to Erwin Cook, Murchison Distinguished Professor of classical studies, non-STEM departments tend to focus their funds on conferences for faculty and students, as well as for honorarium speakers.
"The university's funding is generous, but we deplete the majority of that each year when we go to our national convention, because that tends to be expensive," Cook said.
Conferences like the Society for Classical Studies, which the classical studies department visits annually, are usually global events that allow professors to meet with international colleagues and to discover current research in their fields. This helps departments like classical studies stay relevant with their course material and research.
However, departmental budgets hardly cover resources needed for functionality, let alone special projects and programs that departments and individual professors pursue. In order to find funding, professors apply to various outside grants or fellowships. STEM departments find a lot of funding through national foundations and large government and private organizations.
"The main places we get money would be the National Science Foundation and a private organization called Research Corporation. Some people might get it from the Department of Defense," Ugolini said.
Other organizations that have given grants to specific Trinity professors, like Lyons, are the National Institutes of Health, Howard Hughes Medical Institute and the U.S. Department of Agriculture.
Certain programs have also found support from donations from wealthy individuals. The Mexico, the Americas and Spain (MAS) program is funded largely by the Alvarez family, a wealthy family that has dealings with Dos Equis, while East Asian studies is supported by Oliver Lee, an alumnus and member of Trinity's Board of Trustees.
"Alums are really important to support programs that support students who are here now," Lyons said. "One of the things that's undeveloped at Trinity is our annual fund. The annual giving that we would like to get from students who are alums. But that's in development now."