Club lacrosse team grows in fourth year
Three years ago, former high school lacrosse player and freshman Ben Mulford decided that Trinity's athletic scene needed a change. Sure, Trinity had its basketball teams and its football teams and even its intramural teams, but it was missing something big: a lacrosse team. Mulford, along with some of his friends, decided to bring the idea of forming, or rather, bringing back a club lacrosse team to the athletic department.
"There was actually a lacrosse team started at Trinity in the 1980's, but there was a hiatus," said Mulford, a senior.  
Now, three years later, Mulford's club lacrosse team boasts a 36 man roster and plays in a club league that features Division I schools such as Baylor and UTSA.
"We actually won our league the first year we played, and now we've moved up to the Lone Star Alliance," Mulford said, referring to their new conference.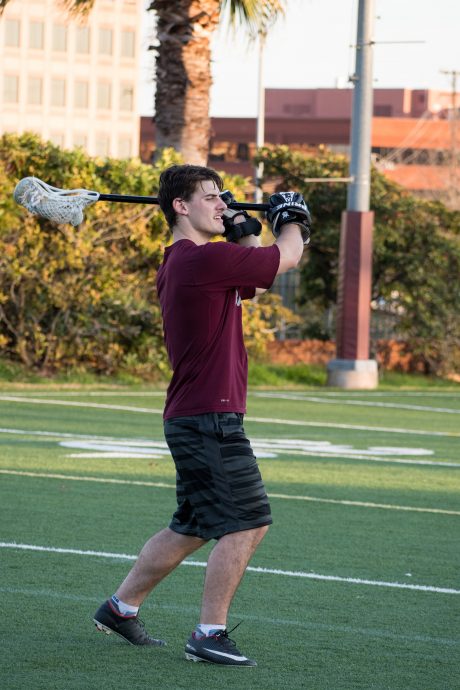 Zach Davis, senior, believes that the team draws such an impressive attendance due to its inclusivity.
"We welcome all skill levels. A lot of the team is relatively inexperienced, but we have a lot of new guys recently that will help," Davis said.
One of these relatively inexperienced players, senior Chris Tate, is already getting acclimated to playing on the team.
"I just started playing this spring," Tate said. "I go to practice three days a week and lift on our off days."
Senior Matt McKelvey follows a similar workout schedule, which he believes the majority of the team follows.
"A lot of guys work out, admittedly some better than others," McKelvey said.
For those that stick with the workouts and practices, success seems to come sooner rather than later.
"I started playing as a sophomore. You get really good really fast," McKelvey said.
The team has only played three games so far this season, but there seems to be reason for optimism.
"We had two close games that we lost and one blowout that we won," Davis said.
In that win, the team scored 24 goals.
Davis also explained why he joined the lacrosse team.
"I wanted some extra activity and I have always enjoyed playing," Davis said.
Trinity club lacrosse will be on the road against St. Edward's University on Feb. 17.
Leave a Comment