Softball starts season on 6-0 streak
The Trinity softball team has started its campaign in exuberant style, winning all of its first six games of the year coming off of last year's losing season. This past weekend, the team played Concordia University in a thrilling doubleheader.
The first game was an exciting 6-4 victory which saw the Tigers, powered by senior Sarah McCarty and juniors Hailey Wilson and Riley Goldwait, fight to come from behind and take the victory. (Wilson is a sports reporter for the Trinitonian.)
In game two, the Tigers fell behind early on again, but they came back, fighting hard to a tie at the end of regulation. The game went into extra innings, but not for long, as Wilson's RBI triple allowed her to later score on a throwing error. The Tigers finished 6-5.
Wilson reflected on her pivotal hit.
"It felt really awesome. I just really wanted to do whatever I could to put my team in the position to win the game, and I happened to place the ball in the perfect place for that to happen. We couldn't have won without Sara's leadoff hit and stolen bases, Becca's 3-run triple, and so on. It really was a team effort and an amazing team win," Wilson said.
Goldwait commented that one reason for their new success is the change in team dynamics. 
"Overall we are more positive and supportive and excited. We've been putting in a lot of work. We've been earning our results instead of expecting them," Goldwait said.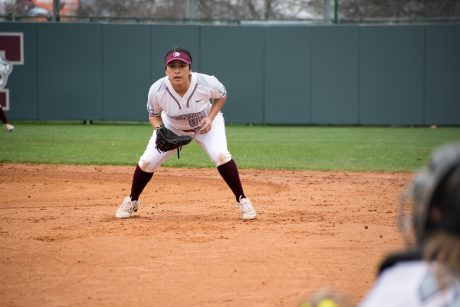 Junior Marissa Trevino believes that the new faces are what has really helped them to achieve success at this early part of the season.
"One of the biggest things that is different is our team dynamic. Ten freshman is a huge class and they've added a lot of diversity to our team, but I think as a whole we blend really well together and play great as a unit," said junior Marissa Trevino.
While introducing 10 new players into the program has diversified the talent pool, head coach Brandi Dolsen asserts that what has really helped the team is good leadership to help the new faces get acclimated to their new environment.
"This year we have really great senior leadership. Our girls worked hard in the offseason as a group, which has not been the case in years past. A lot of credit goes to our returners for making the first years feel at home and a part of this program," Dolsen said.
Trevino agreed with her coach.
"I am so excited about this team. We have great leadership from people in all classes and have incredible energy. I think that our freshman have done a great job of stepping up when we need them, and I am hoping that we are able to continue the momentum that we have when entering into conference," Trevino said.
Goldwait also commented on the role of the new first years. 
"We have a lot of freshman so there is a lot of new energy and having a big underclass means that people constantly pushing each other. This year is a new vibe and everyone is positive. We pick each other up," Goldwait said.
Dolsen also noted that the team seems to have found a new swagger that they have lacked in past seasons.
"Our girls have more confidence than they ever have. I think this is mostly due to all of the time they committed for offseason workout and training. They are seeing the ball offensively really well right now. We have a great group of pitchers that allow us to get different looks in the box, we are grateful to them for throwing to our hitters each week," Dolsen said.
Overall, the team seems to be extremely positive about the rest of their season, but made it clear that they have a long journey between now and the postseason.
"We are taking it one game at a time and focusing on short term goals to achieve our long term goal of getting to the SCAC Champonship," Goldwait said.
Trevino reiterated this mindset.
"We have an end of season goal to make it to the SCAC tournament, but in order to do that we know that we have to take it pitch by pitch, game by game," Trevino said.
Wilson commented on how they need to build on their current dynamic.
"We are looking to keep practicing hard and take things one game at a time. When you get hot, it's easy to get cocky and complacent, so we're really focused on continuing to do the small things correctly," Wilson said.
Dolsen also made this claim.
"We just need to continue building on what they have started. Their chemistry and will to win is something I haven't seen from our program in a few years. It is really exciting as a coach to watch them find success in all of their hard work," Dolsen said.
Goldwait agreed.
"Our saying is, 'feed the machine, and everyone is part of the machine,' " Goldwait said.
The softball team will face off in a doubleheader away game against Mary Hardin-Baylor on Tuesday, Feb. 20. Their next home game will be March 16 in a series vs. Schreiner.
Leave a Comment