Basketball senior night victories cap off winning seasons
The men's and women's basketball teams were both victorious against conference foe Schreiner University on Saturday, Feb. 17 in their final home games of the season. 
The women, who came into the weekend ranked 22nd in the country, cruised to an easy 70–49 victory despite a rough start, where Schreiner took the lead 11–4 within three minutes before the Tigers went on a 20–5 run that the Mountaineers never recovered from. Senior Micah Weaver led scoring, tallying up 15 points. 39 points came off the Tiger bench.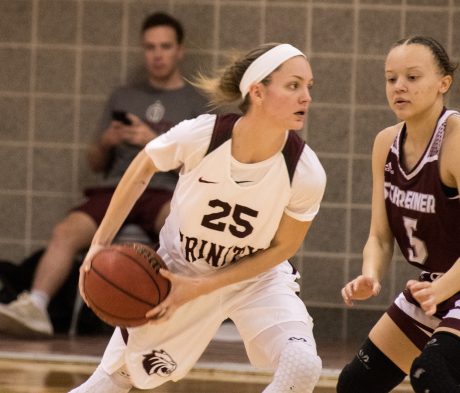 The men, behind by two at the half, were able to pull ahead for a 75-56 finish. The Tigers were led by junior Danny Rivara, with 29 points and seven rebounds. Senior Matt Jones dished out eight assists in the contest.
First-year Mallory Lancaster explains that the seniors will be missed.
"They helped me with their experience on the court. And off the court was even better because of Kate Irvin's jokes. So I'll miss them being here," Lancaster said.
On the men's team, Jones explained their improved record coming off last year's losing season.
"What made this year successful is we finally seem to be an older team. We are playing guys with more experience and it's showing. Plus, lots of different guys are stepping up every night so it makes it fun for the whole team because we never know whose night it's going to be," Jones said.
He reflected on his four years playing hoops for Trinity.
"Playing four years at Trinity has been a lot of hard work and a lot of sacrifice, but it has been well worth it. Even though we missed Thanksgiving break, we miss a ton of the holiday break, and we don't get a fall break, the time spent with my friends and teammates playing the game has never made me feel like I'm missing out on something. Of course I will miss it when it's over, I don't know what I'm going to do after," Jones said.
Senior Brian Blum explained how he prepared for his senior season.
"I prepared for this season differently by laying off the Twinkies," Blum said.
Blum also commented on how he's been able to stay motivated throughout the years.
"Staying motivated isn't a problem when you're doing something you love," Blum said.
Jones also spoke about how his sources of motivation.
"I have maintained my motivation for the sport by just always remembering how much I like to play it and how much fun I have out there with my teammates and coaches. I learn something new every time I'm out there about myself, my teammates and my coaches," Jones said.
Sophomore Danny Rivara has been a key player throughout the men's season.
"I'm just out here doing what my team needs me to do in order to win, whether it be scoring, rebounding, or assisting. I am here to help the team and do my part," Rivara said. "Scoring 29 points is nice, but I'm just out here playing my part and trying to make us a better team so that way we can compete for a national title."
Jones addressed what needs to happen in order for the team to be successful in the postseason. They enter the SCAC Championships seeded fourth.
"Heading into the conference tournament I think we just need to continue to play together. When we are focused on just the goal at hand, winning the conference championship, and we ignore all the other distractions around us, we are really good," Jones said.
Lancaster feels good heading into championship weekend. The women are seeded first in the tournament.
"I expect nothing less than a SCAC championship," Lancaster said. "It's precedented that we win the conference, and we're working our tails off to keep it that way."
With additional reporting by Kendra Derrig, sports editor
Leave a Comment