Former secretary of defense visits Trinity
Former U.S. secretary of defense Ash Carter visited Trinity as this year's Flora Cameron lecturer. Carter focused on international security, on changes in administration and on U.S. relations with foreign competitors and agitators such as Russia and China.
The lecture is a part of an annual series that focuses on politics and was held on March 21 in Laurie Auditorium.
Carter drew in a diverse crowd from around San Antonio including many residents, college students from multiple schools, and even high school classes. Trinity alum Alex Decker, '14, brought his high school class from BASIS, a charter school in the area.
"As other countries are advancing their technologies, I was curious to hear that [Carter] thinks [the U.S.] will be prepared against new innovative weapons such as autonomous guns and newer bombs," said Guillian Paguila, 14-year old student at BASIS.
The crowd was mainly curious about the state of U.S. safety in light of Russia's recent cyber attacks, North Korea's nuclear arms and the President. During the Q&A part of the lecture, Trinity sophomore Travis Boyd asked Carter to expand on comments made about hacking during the 2016 presidential campaign.
Carter's lecture was dominated by international safety concerns, specifically with China, North Korea and Russia. In his response to questions like Boyd's, Carter emphasized that these nations are issues for the U.S. and that he foresees conflict with them in the coming years, though he hopes the country will avoid it. According to Carter, these nations' authoritarian leaders are too power-driven and dangerous to be taken lightly.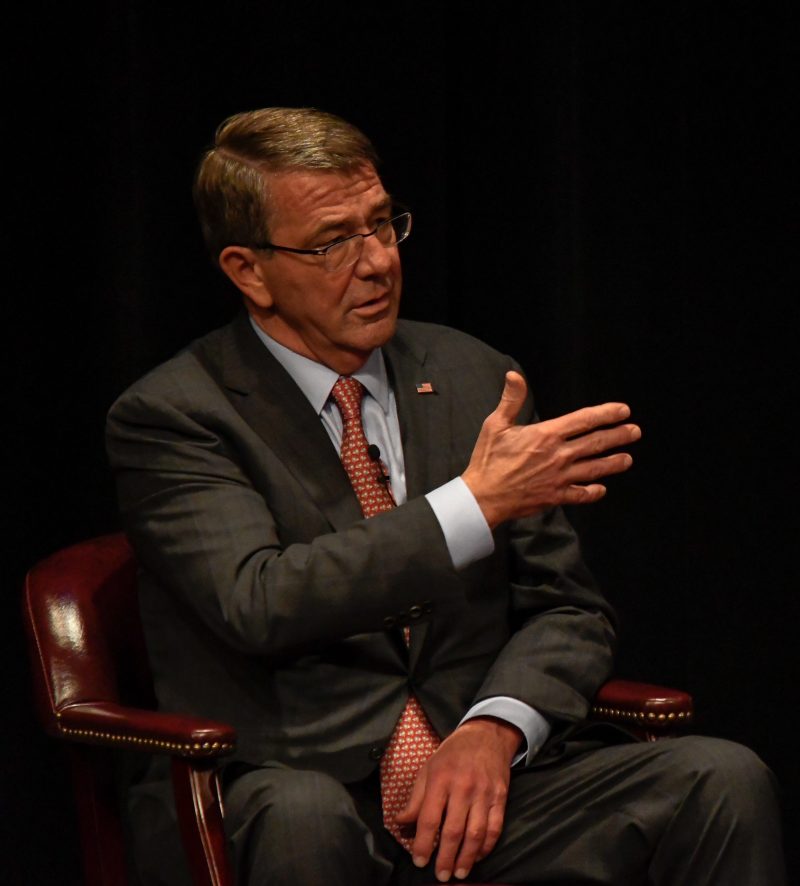 Later on in his speech, Carter suggested that he wouldn't be surprised if war came to pass with North Korea, in which case nuclear arms would be used in the Korean Peninsula. Though he made it clear he did not want war, Carter made it clear that he believed some form of conflict will emerge, but that the U.S. would be victorious in any conflict
"China, Russia are trouble in their own different ways, trouble in my opinion. There is an issue with China. It is a communist dictatorship and we have an economic relationship with communist dictatorship, and you have to look at that for what it is. It's not friendly," Carter said. "And then there is North Korea and Iran, and so it's all out there and I don't believe our fundamental strategies with dealing with them will change."
Carter has a background of over 20 years at the Pentagon, but actually graduated from Yale University with a double major in physics and medieval history. He accounted much of his success and ability to problem solve in politics towards his liberal arts education, similar to that offered at Trinity.
"I thought it was really cool how [Carter] has a doctorate in theoretical physics, and I read articles about how he was relatively non-partisan and tended to be more analytical about things," said sophomore Ari Bearman.
Carter utilized a serious rhetoric in describing how the U.S. has values that are largely superior to that of the majority of the world, and countries like Russia, China, and North Korea threaten the U.S.'s morals. Carter stated that the U.S. was something to be proud of, but that in order to maintain its status, it needed to stay vigilant.
Leave a Comment