Journalism in the 21st Century
The Contemporary, along with the department of communication, the department of political science, Trinity Diversity Connection and the Trinitonian, invited five Texas journalists to Trinity as a part of their April 12 panel, Journalism in the 21st Century.
Three panelists from publications based in the San Antonio area — Beth Frerking, editor-in-chief of the Rivard Report; Greg Jefferson, editor-in-chief of the San Antonio Current; and Jasper Scherer, political reporter for the San Antonio Express-News — will be joined by two panelists from statewide publications: Ayan Mittra, editor for the Texas Tribune; and David Martin Davies, host of "Texas Matters" and "The Source" for Texas Public Radio (TPR).
The Contemporary kicked off the event to encourage students to engage with local journalists and to learn about the future of journalism.  Junior Benjamin Collinger, the founder and editor-in-chief of The Contemporary moderated the event.
"We tried to get a good representation of publications that are in San Antonio," Collinger said. "We also did our best to make it representative of the different kinds of publications that there are."
During the panel, the journalists tackled questions of what kinds of things have changed reporting. According to Frerking, the immediacy of social media is key to how we experience news and has been one of the biggest factors in the evolution of journalism.
"We're no longer bound by print deadlines. The reporting kept going, and I think that changed fundamentally the way things were done," Frerking said. "I think that's the biggest change — pace. The expectations that people are on 24/7."
The panelists also cited analytics as a helpful tool for understanding an audience. Mittra explained that looking at analytical data from different apps has changed the way reporting works and is published.
"The thing that has really changed is being able to study your audience," Mittra said. "We're reaching them through Twitter, Facebook, Reddit, all these different ways. How do you measure that? Now we're getting feedback and story ideas pretty instantaneously."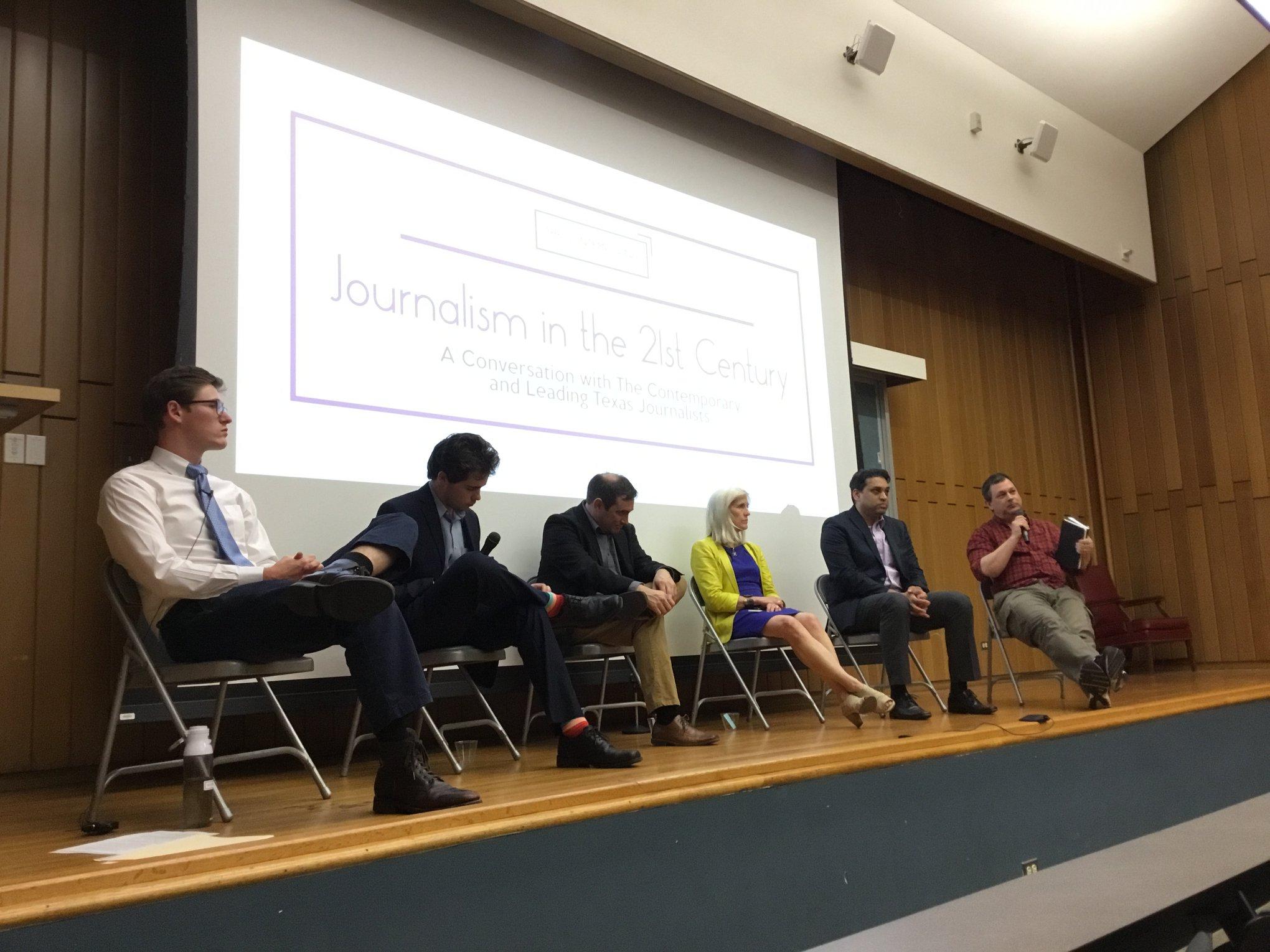 With the rapid changes occurring in journalism due to its role in politics and the use of social media to spread news, The Contemporary decided it was a crucial time to discuss how journalists should respond and adapt to these changes.
"We think it's really important for people to be aware of the ways in which journalism has to change in order to be sustainable," Collinger said. "It's important not only for journalists to understand how to report on all issues involved but also to understand the business side of how journalism is produced, how it can be sustainable and how you can really create conversations in a way that affects politics."
Collinger thinks it's important for students to discuss how technological innovations will change journalism, how the fragmentation of the web via the loss of net neutrality will affect journalism and the role of fake news.
In an interview with the Trinitonian prior to the event, Davies of TPR talked about how journalists have to do a better job explaining how to maintain public trust in this era of fake news.
"There are problems with the public perception of how journalism works and what the objectivity is," Davies said. "If we have backstage actors who are leading politicians, journalists have the obligation to call them out and hold them accountable. Just because you're doing that doesn't mean there's an issue of bias."
The Texas Tribune's Mittra presented other changes that affect modern journalists, especially regarding news on social media.
"It's competitive in a different way. You want to be the first to put news on Twitter, as well as on your site," Mittra said. "There's also more opportunity to not only report your news, but to get feedback. There's more opportunity for a two-way conversation, for your audience to be able to engage in your content."
Although journalists may require new skills to navigate through this new age of journalism, Mittra believes that the essential skills will remain the same.
"Always be ready to learn new skills, but always have the strong basic skills," Mittra said. "You'll still need to be a solid reporter, still need to know how to find sources, how to fact-check and how to stay in the loop on various topics."
According to Collinger, there are many reasons to speak more about modern journalism, including the implications for journalism in an age of hyperpolarization and the nationalization of local and state news, meaning local news is being used to push the national agenda. However, there is one main focus of the event.
"Essentially, the goal of this panel is to empower collegiate journalists to report on issues in their communities," Collinger said.
With additional reporting by Kathleen Creedon, news editor
Leave a Comment