Women's tennis finishes home schedule with a win
The 20th ranked Tigers women's tennis team has been on a roll this season. They are on a six-match win streak and polished off their home schedule with a 6-3 win over University of Texas-Dallas on April 8. The win brought the Tigers to a 10-10 record.
The match started off slow as both teams split the first two doubles matches. Senior Marie Lutz and sophomore Zoe Kaffen took matters into their own hands, snagging an 8-6 win to bring the Tigers up 2-1. Lutz and Kaffen are 5-0 in doubles this season.
"They came out really strong fighting in doubles. I remember last year we swept them 3-0, but they gave us a run for our money this year," Lutz said.
UT-Dallas stormed back in singles to tied the match, but Kaffen clinched a straight-set win to gain the momentum for the Tigers. Kaffen extended her singles win streak to eight. Sophomore Francesca Canjar earned another straight-set win.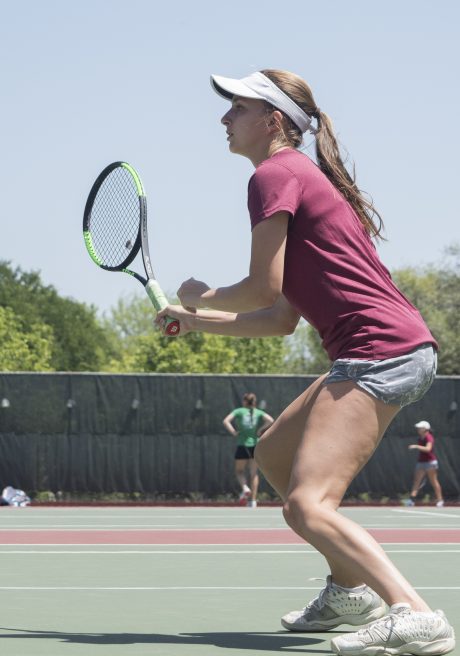 The victory was sealed when sophomore Mary Kaffen scored a 7-6 (4), 6-3 win. Sophomore Ashley DeBauge powered through the second set and took a 6-1, 7-5 victory, her fifth consecutive singles win.
"I think all of our girls are really great and have learned this season to keep fighting until the very last point," Lutz said. "A lot of people say that it's very rare that both players [in a doubles team] fight until the very last point, and I think that's one of our best attributes."
Senior Cheyenne Duncan put up a stellar performance, but fell short in the final point of the match. Duncan was defeated 7-6 (4), 4-6, and 10-5.
Although the last match didn't end in Duncan's favor, she is very grateful for her four years here at Trinity.
"We've had an awesome four years here and I'm lucky to get to play by [Lutz]. We've made it to the very end and I think that's the most special part — just getting to play next to her, especially in doubles," Duncan said.
The Tigers will head to Georgetown this weekend to take on Southwestern. The match will begin at 10 a.m. on Saturday, April 14.
"We have a long way to go with Southwestern and then conference coming up and then after that, hopefully, NCAAs," Duncan said.
After facing Southwestern, the Tigers will travel to Colorado for the Southern Collegiate Athletic Conference (SCAC) championships. For junior Andrea De Leon, the team is focused on preparing for the altitude fitness-wise.
"Altitude is definitely going to play a huge factor in playing so going up there a few days in advance to get used to it will be important," De Leon said.
The SCAC Championships will take place at Colorado College on April 20–22.
Leave a Comment