Photo by Matthew Claybrook
Over the past decade, the popularity of esports has grown significantly.
Whether fans are watching their favorite streamers on Twitch or playing games themselves, there is no doubt that competitive gaming has increased in relevance worldwide.
In terms of the Trinity campus, the unique opportunities that esports present have been harnessed by TU Gaming, which is set to compete in the Southern Collegiate Athletic Conference (SCAC) Gaming Tournament this April.
Junior Will Ballengee, who currently serves as president of the club, believes that the accessibility of gaming makes it stand apart from other activities.
"I think that gaming is just like any other hobby you share with someone. It's something to bond over and do together. I've played a good amount of video games with most of my closest friends in high school and at Trinity but not in any way that is unique to gaming as a hobby, except for maybe it's very easy to play a video game with someone a hundred miles away," Ballengee said.
First-year Henry Lin, who is the current captain of TU Gaming's League of Legends team, holds a similar view.
"I think the word 'sport' can mean something sacred to a lot of people, and that's why esports is often ridiculed by people who don't understand what it is. A lot of people don't believe it's a sport or have the misconception of esports being just a pastime for kids," Lin said. "It's true that video games aren't nearly as physically demanding as playing soccer or baseball, but I think that's the precise reason it's so popular. People like esports not only because they enjoy the game but also because there's nothing stopping them from becoming the best at a game."
The size of the club is fairly large for an on-campus organization, but Ballengee believes there are still many members of the Trinity gaming community that haven't joined the TU Gaming club.
"Our email list currently has 157 people, and I'd say that about half of them have come to at least one event each semester. I personally think that number is a bit small relative to how many people use video games as their primary hobby," Ballengee said.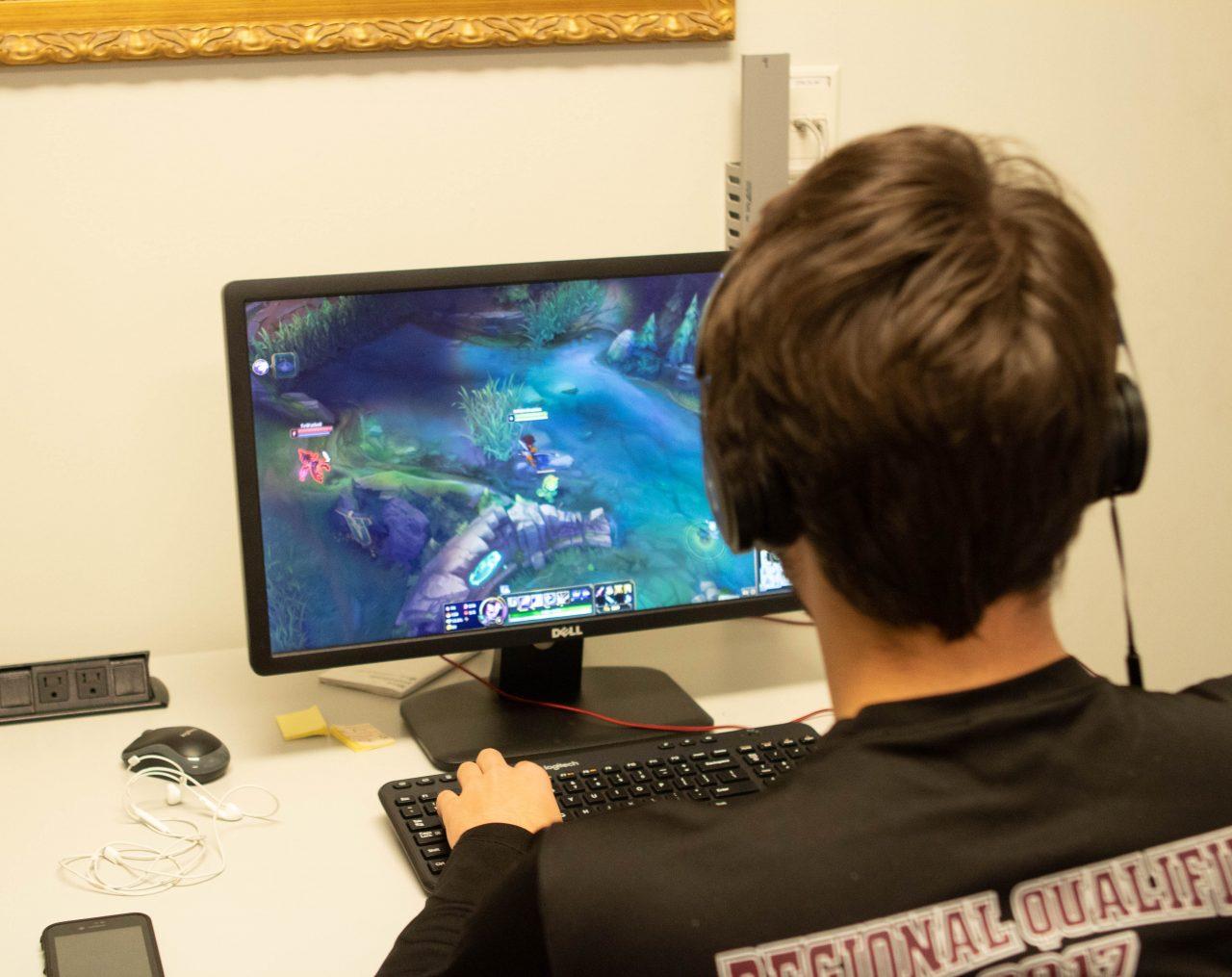 In order to cater to the interests of all members of the club, TU Gaming hosts a variety of scheduled events.
"For this semester, we are holding Smash Ultimate tournaments every other Friday at 5 p.m. in the Cube [in CSI], but in between those, we often host other events that are less competitive and more social," Ballengee said. "The difficulty of managing the nature of our club is that we will never please everyone. Playing video games is a very large bucket. There are all sorts of games, and everyone likes something different."
Additionally, this semester presents a unique opportunity for the organization to participate the SCAC's first-ever Division III Esports Competition on April 6–7. The competition will be held at Schreiner University in Kerrville during Schreiner's pop culture convention.
The participants will be esports teams from Schreiner University, Austin College, Colorado College, Johnson and Wales University, Southwestern University and Trinity University.
Matt Hibbs, assistant professor of computer science and TU Gaming Club's faculty advisor, explained in an email interview that the tournament format will mimic that of collegiate sports.
"The competition is being modeled similarly to a track and field tournament in that there will be multiple events with points awarded based on a team's placement in each event. The school with the highest point total after all events will be declared the competition champion. Winning teams for each event will receive medals, and the winning school will receive a trophy," Hibbs wrote.
The competition will feature a variety of games, including League of Legends, Overwatch, Fortnite and Super Smash Bros. Ultimate.
"Trinity is fielding teams for all four main events. For Fortnite and Smash, there will be a bracketed single elimination competition held on-site. For League and Overwatch, since those games take longer for two teams to compete against each other, there is a five-week pre-season period where each team plays each other team in a round robin format to determine seeding," Hibbs wrote. "At the on-site event, teams will play their closest seed (1v2, 3v4, 5v6) to determine the final ordering. In the unlikely event of a point tie, a vintage game will be selected (e.g. Tetris, Pac-man) and the highest score in that game will break any ties. Most of the events will be live streamed, likely on twitch.tv so that those not attending can still watch the games."
Although this competition changes some of the day-to-day activities of TU Gaming, Hibbs said the original values of the organization remain the same as they were.
"While TU Gaming wasn't originally created to host esports club teams, it was a natural fit for TU Gaming to expand its original role. I don't think that has affected the original goal of the club to create a welcoming social environment for people to enjoy games together. Hopefully both the social role and this new competitive role can continue side-by-side," Hibbs wrote.