Tigers shatter records at Track and Field Conference Tournament
photo by Matthew Claybrook
The Trinity University track and field teams finished the last weekend of April with strong showings in the Southern Collegiate Athletic Conference (SCAC) tournament.
On the first day of competition, the women's team scored 64 points to gain the first place position while the men's team finished in second with 43 points.
In notable performances on day one, senior Mia Loseff cleared 3.73 meters in the pole vault to earn first place and break a 10-year-old SCAC record in the event.
Loseff is now a four-time SCAC Champion in the pole vault and is only the second student-athlete in SCAC history to achieve the feat.
In the men's pole vault, first-year Tanner Lacy won the gold with a mark of 4.55 meters.
Sophomore Naim Barnett set a personal record and earned first place in the men's triple jump competition with a mark of 14.41 meters, which also moved him to second on Trinity's all-time performance list.
First-year Sean Majors finished second in the javelin throw with his Trinity season-best throw of 49.41 meters.
In the 3,000-meter steeplechase, Trinity's women swept All-SCAC honors, with senior Molly McCullough placing first, senior Allison Hill in second and sophomore Jordan Juran in third place.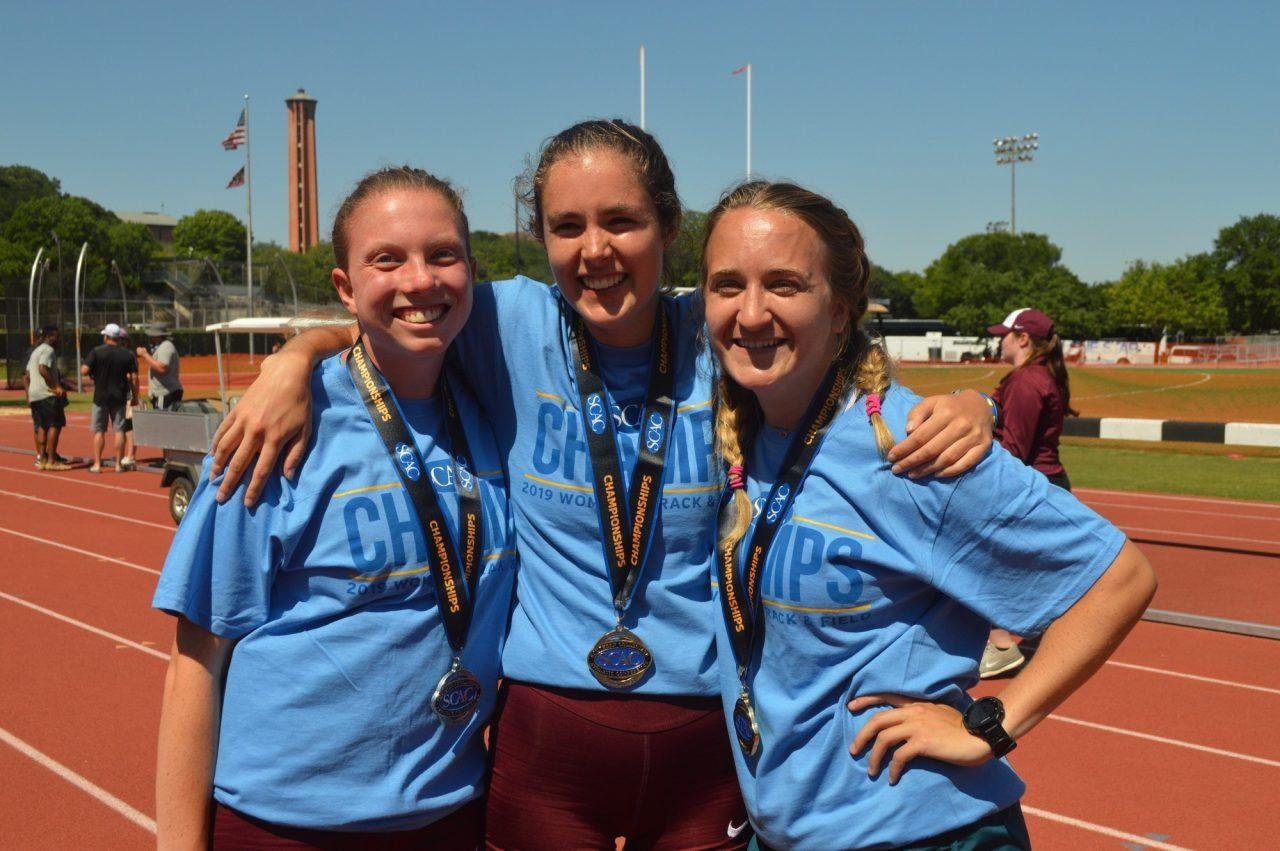 photo by Amanda Gerlach
McCullough is the only person in SCAC history to win the event four times.
"It was really exciting. The steeple is my absolute favorite event on the track, so it was so gratifying to not only win my fourth steeple but also have our team sweep the event. It's the same way the race ended up my freshman year, so it's a cool feeling to end my senior season that way," McCullough said.
On the second day of competition, McCullough again had a strong showing, as she earned first place in the 5,000 meters for the first time in her career.
"Throughout the race, I just kept telling myself to stay focused and keep pushing. I felt in control and strong, and I'm proud of the way I ran the race. I'm also proud of the way my teammates ran the 5k. We knew it was going to be a fight and that not all of us were at 100% going into conference weekend, so it is really impressive the way that they fought to earn those points and run for the team," McCullough said.
In total, Trinity's women won the meet with 233 total points, while the Tiger men scored 190 points to finish in second.
Senior Abigail Bannon-Schneebeck won both the 100-meter hurdles and the 400-meter hurdles for the third consecutive year.
She earned second in the 100-meter dash to earn All-SCAC honors and placed fourth in the 200-meter dash.
Senior Blair Walker broke the Trinity school record and won gold in the men's 400 with a time of 47.95 seconds.
"Honestly, I can't say with certainty what all enabled me to compete at the level I did. I had a bit of a rocky season battling a hamstring injury, and so I had not been entirely pleased with my performances throughout the season. On the day of conference, I just focused on my race, put faith into the work I had put in and left it all out on the track," Walker said.
Walker also earned second in the 200 with his time of 21.81, and was presented the SCAC Elite 19 award for completing at least 60 credit hours, recording at least a 3.25 GPA and earning all-conference honors.
"While track is something of an individual sport for most of the season, conference is definitely when the team bands together and really competes as a team. There's a different sort of energy in the air, and so I think that contributes to people performing well at the meet in addition to just getting excited about both their events and others' events," Walker said.
Sophomore Peyton Tuggle earned All-SCAC honors by finishing third in both the 100 and the 200.
The Tiger 4×100-meter relay team featuring junior Andy Garza, junior Androniki Defteraiou, senior Abigail Bannon-Schneebeck and first-year Madi Gammill earned gold with a time of 49.54 seconds.
Sophomore Harry Bellow took gold in the 1500 meters with a time of 4:02.71. Bellow also finished as the runner-up in the 800.
"Every time I am on the line, I put it out there for my team. During the race, I was just trying to score as many points as I could. Scoring points at a meet like this is big in terms of momentum. If someone has a really great race, it is likely that their teammates will see and be inspired to put on their own show," Bellow said.
Senior Stella Affognon finished in second place in the shot put event, improving on the third place finish she earned for the last two years.
"What really contributed to my performance was staying excited and relaxed, which is when I throw my best," Affognon said.
For the graduating seniors on the team, this meet was their last conference tournament as Tigers.
"I want to thank my coaches, Coach Daum and Coach Loeffler. Their wisdom and guidance has allowed me to grow so much as a person and as a runner, and they've given me so many opportunities to compete against the best DIII athletes in the country. I'd also like to thank my teammates. Running can be kind of boring without people there with you, so it's made such a difference in my running career to be supported by people I love. Because of this sport, I have had the opportunity to travel and train with an amazing group of athletes over the past four years," McCullough said.
Leave a Comment