Photos by Oliver Chapin-Eiserloh
To raise awareness for climate change, the Department of Philosophy hosted a panel discussion last week on the climate emergency. It was attended by about 75 students and San Antonio community members.
Judith Norman, chair of the Department of Philosophy, worked with various associations, including Earth Strike! and the Poor People's Campaign to host the event.
"[Climate change] is getting worse and seems to be spinning out of control. We have an incredibly limited window to prevent a climate catastrophe," Norman said.
The panel's guest speakers represented six groups: Green Party, Housing Justice San Antonio, Poor People's Campaign, Party of Socialism and Liberation, Democratic Socialists of America and Earth Strike!. Each organization advocates for increased awareness and efforts to stop climate change. The organizations spoke on behalf of underrepresented groups in society from across the city and nation, with each speaker making a brief five-minute address followed by a Q&A.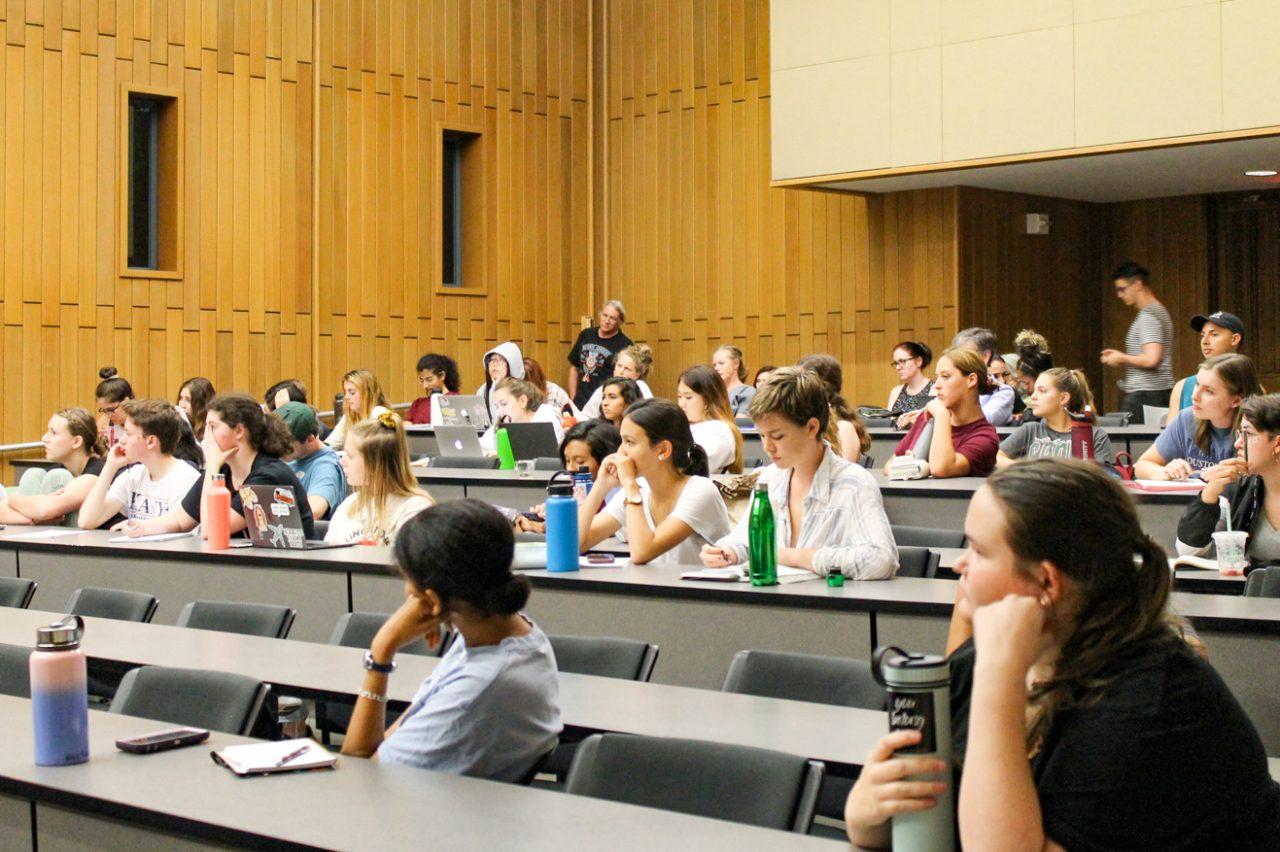 "Economically vulnerable communities are the first ones to suffer," Norman said. "They need a superior say in both the scope of the urgency and adaptation arrangements needed to be made."
According to Norman, there is a trend within communities to declare a climate emergency and put climate action plans into effect. In San Antonio specifically, Climate Action SA has worked with the city to design and implement a climate action plan.
Carol Fischer, a member of the Climate Action SA and moderator of the panel discussion, hoped holding the discussion at Trinity would engage the youth in the effort to halt climate change in its tracks.
"The youth need to lead this," Fischer said in her introductory address. "Don't let my generation dictate to you what your world is going to be like."
For Anacua Garcia, who attended on behalf of the Southwest Workers' Union, taking action against climate change feels like less of a choice and more of an obligation.
"I guess I had no choice," Garcia said. "Veganism brought me into consciousness of the environment. Veganism spoke to the environmental aspect, but it did not speak to environmental justice. Veganism is hollow and empty if you are not advocating for environmental justice."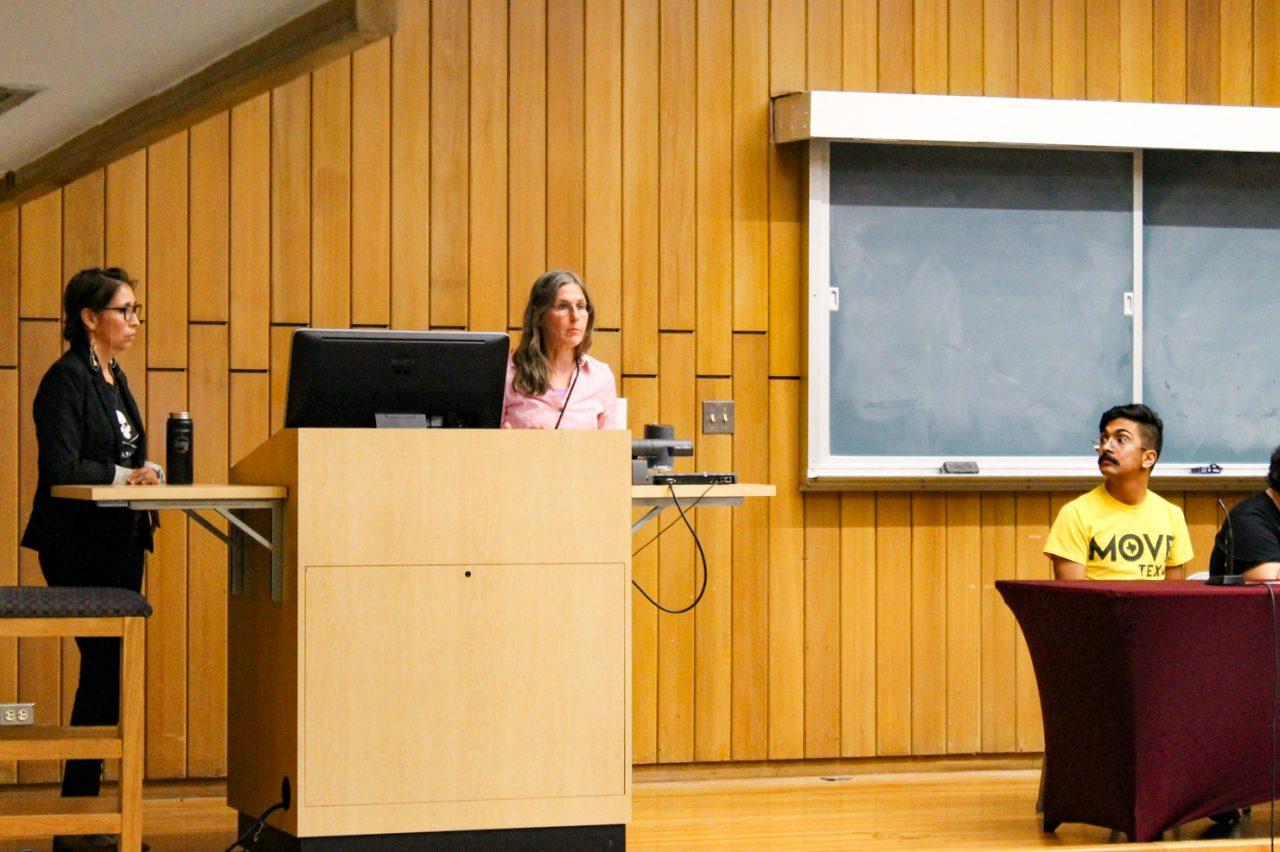 Garcia also expressed a shared frustration with the Climate Action and Adaptation Plan proposed by San Antonio in regards to climate equity.
According to Garcia, climate equity is defined as the prioritization of the needs of the individuals most affected by climate disparities or continued pollution.
"The city ripped us out of the process and created their own green-washed version of a climate plan that keeps coal until the 2060s or later and plans for nuclear energy, which doesn't address climate equity," Garcia said. "It's not a real climate plan. It's a false solution, so that's where my solidarity and frustration are."
According to information provided by Garcia, variances in life expectancy by zip code demonstrate the urgency of action. Communities living in Westside San Antonio are predominantly made up of people of color. The average life expectancy in these communities is a full 20 years fewer than that of individuals residing on the north side of the city.
Aaron Arguello, who attended on behalf of MOVE Texas — a non-profit organization dedicated to giving voice to youth and underrepresented groups through civic engagement — has observed the effects of climate change locally.
"[San Antonio] is a very working-class city," Arguello said. "The working class tends to feel the effects the most, and because of that, we have some of the worst air quality in the United States."
For Ellie Schlesinger, a first-year student and environmental sciences major, the evening underscored the importance of fostering an environment permitting discussion of such a pressing issue.
"I always find [anti-capitalist rhetoric] hard to swallow because it seems too radical to discuss with anyone," Schlesinger said. "But that's coming from someone who is more used to discussing it with people unfamiliar with [climate change] or who are conservative. It was refreshing not having to hold back and express our distaste at the system."
Though not involved with any official efforts to stop climate change, Schlesinger tries to make a change by engaging in mindful eating by cutting down on meat consumption. As a nature enthusiast, Schlesinger felt the night's proceedings and the need to take action hit home on a personal level.
"It's an important issue that literally affects all aspects of life," Schlesinger said. "It's the planet. It's our home. This is everything, and it's all we have."
There will be a climate change teach-in on Sept. 20 at 10:30 a.m. in the Coates Student Center. There will also be a Youth Climate Rally hosted by Operation Climate SA on Sept. 21 at 10 a.m. on the front steps of the San Antonio City Council Chambersw.