First-year athletes discuss delayed collegiate debuts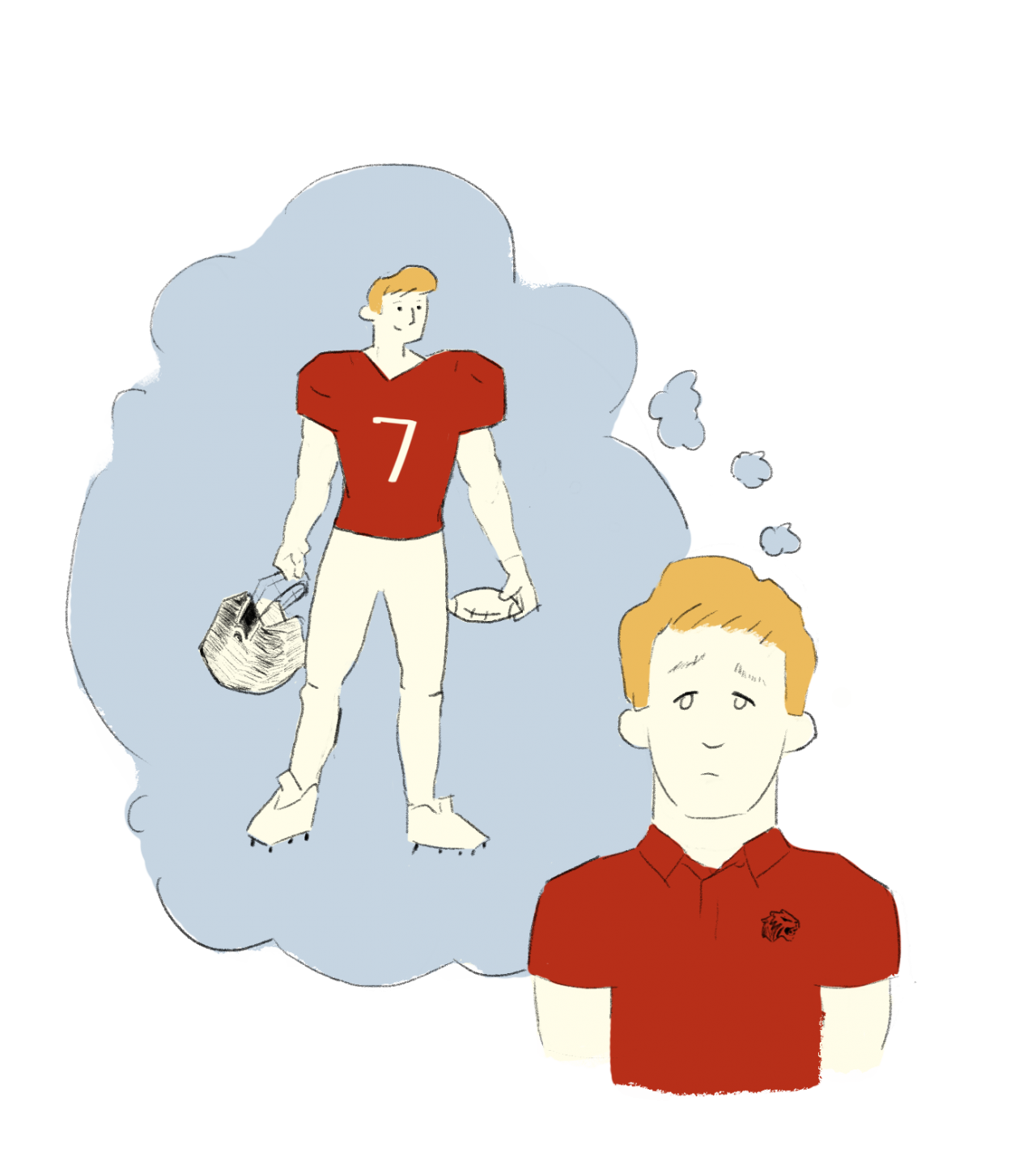 Illustrated by Kate Nuelle
The cancellation of the fall sports season left many first-year athletes disappointed that their lifelong dreams of playing collegiate sports would have to wait even longer. Despite the unexpected delay, many are now looking at this as an opportunity to get adjusted to college academics and to bond with teammates before a potential spring season begins.
Santiago Bohlmann, a first-year on the football team, says that the team has been staying in shape while building camaraderie by working out in small groups and running. His first-year teammate, Joshua Jackson, confirms that many on the team are doing anything possible to stay prepared.
"For me, it is just a minor setback and I view it as just a longer offseason to get better. I have been lifting at gyms, as well as running and throwing on fields to make sure I am still in peak performance by the time the season comes around next semester," Jackson said.
According to Trey Lisauckis, first-year football player, it will be strange to not play this semester as it is many of the team's first fall semesters without a football season in a long time. However, he reiterates that the team will stay ready for whatever lies ahead.
"As of now, we haven't been able to do much organized practicing or workouts, but a lot of us have been getting together to try and stay in shape. We will definitely be ready for whenever we're called to be back on the field," Lisauckis said.
Some players say that this pause on athletics has been an opportunity to adjust to college life.
"Obviously, we're all really bummed out that we won't have our football season this fall but it is a great chance for us [first-years] to get experience with the college weight room and playbook. This has given me time to transition into college and put school first, which has definitely helped me understand how college works," said Cole Monago, first-year football player.
Likewise, Carley Broekhuizen, first-year volleyball player, was able to find some positive aspects of a longer than expected off-season.
"I am trying to take this off-season as an opportunity to get fully adjusted to college classes and activities. I think many of my teammates and other athletes are encouraged to take more hours and spend extra time on their academics. My teammates and I have also been taking this time to get to know each other and bond before we go on the court together," said Broekhuizen. "We have been able to find extra time to spend together that we might not have had with a fall season, which will make our connection even stronger…"
Maddie Fate, first-year volleyball player, explained that she was especially excited to join a team coming off a National Collegiate Athletic Association (NCAA) National Semifinal appearance.
"It's definitely a big disappointment especially after a great season last year and I was looking forward to being a part of a team that's making program history," said Fate.
Teams are scheduled to have modified practices this fall with smaller groups. Student-athletes are also hopeful for the possibility of playing their seasons in the spring, although no such announcement has been made by either the Southern Collegiate Athletic Conference (SCAC) or the Southern Athletic Association (SAA), which are the two conferences in which the Tigers compete.
"At this point, I'm mostly just trying to stay positive and get myself ready for hopefully a spring season," said Joey Finley, first-year soccer player. "I've been able to get really close to the girls in my grade and they've all been super nice and especially with everything being online and what not having a few automatic friends was awesome."
With so much uncertainty, it's impossible for student-athletes to know exactly what's next. For creatures of habit that are used to ultra-specific schedules, this fall semester will be especially difficult, but according to Monago, there is still a sense of optimism among the Tigers.
"Overall, I'm just really excited to be a Tiger and can't wait for this upcoming season," Monago said.
Leave a Comment