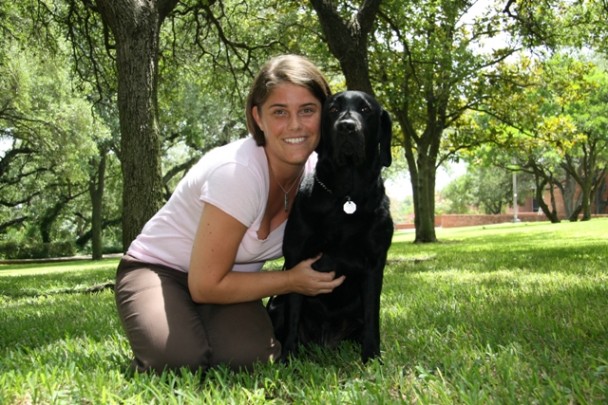 Renae Goettel, who graduated from Trinity with a double major in communication and sociology in 2008, was both Trinity's first blind student to graduate and a first generation college degree graduate in her family. Now 27 years old, Goettel speaks about conquering her life-threatening health issues, her experience with Make-A Wish-Foundation, and what keeps her motivated today.
Q: What health complications have you dealt with in your past?
GOETTEL: "I was born blind, and when I was 10 years old I was finally diagnosed with Senior Loken Syndrome, which is really rare "" one person in the country a year is born with it. Not much was known about the disease, but as a result I had a complete kidney failure and was put on dialysis for 15 months, 10 hours a day. In June of '99 my mom donated her kidney to me, but the year after that I had a ton of complications. I had about 20 surgeries and was in the hospital for 100 days straight, and was also diagnosed with cancer the year following the transplant."
Q: What was your Make-A-Wish experience like?
GOETTEL: "I wanted to meet Sean Elliott, who formerly played for the San Antonio Spurs, because I love the Spurs and sports in general. He actually had a kidney transplant right after I did. We really connected "" he was friendly, genuine and made me feel so comfortable. His family and I became really good friends while I was at Trinity. He and his wife took me out to dinner, helped me with my laundry, invited me to Spurs games and even drove me to my kidney doctor appointments. He was really supportive through my time at Trinity, and our friendship was great."
Q: You recently gave a speech this past March to thousands of people at the 2012 Make-A-Wish Gala. What was that like?
GOETTEL: "It is an annual event, and I got to speak for the Seattle chapter of Make-A-Wish, the same chapter that granted my wish. It is the biggest fundraising event of the year, and they try and find a story that's really touching and shows how Make-A-Wish impacts someone's life. Getting to have that connection with Sean really did touch my life, and I felt lucky to be selected to speak. Everything I said really came from the heart, but I was surprised at how not nervous I was because the goal to raise at that event was 1.3 million, which we made!"
Q: How has running impacted your life?
GOETTEL: "I recently joined a local gym with a personal trainer and started running. At first I could hardly run half a mile, but a year later I've run three 5-K's and two half marathons. My first full marathon will be in June. I feel like I'm in the best health of my life, and my kidney doctor is amazed at how healthy I am. It's great to find something I enjoy and an avenue to relieve stress. It's definitely a challenge to run in big races, though, because they can get really crowded "" it just takes a lot of trust on my part that my running partner will help look out for me."
Q: What was it like working as a sports reporter for the Trinitonian while you were at Trinity?
GOETTEL: "I don't know if people were shocked or concerned by it, but I had a really good experience doing it. At first it might have seemed kind of weird, because people wouldn't ever expect me to report on a game I couldn't see. But I enjoyed sports, and I got to work with a number of Trinity coaches who were absolutely amazing, welcoming and supportive."
Q: What have you been up to since graduating from Trinity?
GOETTEL: "I worked for the Spurs for two years after graduation but left there to work for the communication department at Trinity for about six months writing content for academic web pages. After moving home recently, I reached out to Make-A-Wish in Seattle and became a wish granting volunteer. I actually just accepted a new position at a benefits consulting company in downtown Seattle."
Q: What's the driving force that continually pushes you to persevere?
GOETTEL: "It is a little bit surreal "" I had everything against me. No one in my family went to college, and none of them were born blind like me. I think it is just part of my personality to work even harder when I am challenged. When someone tells me that no one has ever done something before, that only gives me more motivation to do it. I wanted to earn a college degree to show that I am capable and worthy of a real job. Though it was awful to have gone through what I have in such a short period of time, I love being able to give back and share my story and finding the good in something difficult."