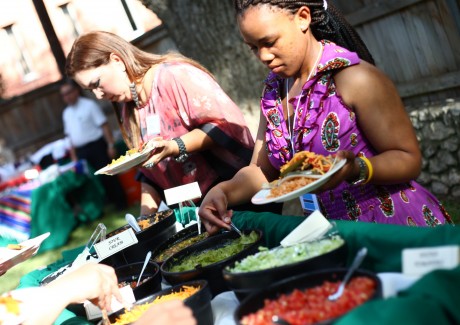 Trinity's outdoor pool area was filled with a jumbled and diverse group of fresh-faced first years Tuesday, Aug. 14, as the day marked the start of International Student Orientation on campus. The students milled about, some excitedly, some nervously, chatting with one another at the ISO "" and InterVarsity Christian Fellowship "" sponsored pool party.
This particular group of students includes many individuals who have not only never set foot on campus, but who have also never been in the country. In addition to having new international students attend the general New Student Orientation, International Programs developed an International Student Orientation. The orientation program aims to help prepare students who are new to the country and campus for life in the United States even before they attend NSO.
"The whole idea of ISO is that it's earlier, so that the new students can meet each other before all of the important NSO events start. This orientation program is organized with more cultural issues in mind. We think about things like bed linens for students who have traveled a long way and maybe couldn't bring their own, and we consider airport pick-ups," said Inessa Stepanenko, assistant director of International Student and Scholar Services. "We have students from as far away as Tanzania who have never been here before, and ISO works to give extra help to these students."
The ISO team incorporates increased elements of support by including specific interns who are responsible for getting to know the international students, picking them up at the airport and taking them on those crucial move-in day shopping trips.
Much preparation goes into organizing ISO, according to Stepanenko.
"We start recruiting interns a semester before ISO. This year, we have 10 students in addition to two full-time staff members. There is an hour of training in the spring, and, over the summer, the interns establish contact with the incoming international students over Skype, Facebook, phone, and email "" anything and everything that they can use to contact and connect with the new students," Stepanenko said.
Older international students comprise some of the interns who have signed up for the pass/fail course in which organizing ISO is only one of the tasks. These students are ideal builders and facilitators of the orientation program because they already know what the major challenges common to international students are.
"Language, food, cultural differences "" questions of greetings, like, do I hug this person, kiss them, or bow to them? There are so many diverse groups and it is hard at first to see how they will end up going together," said Aparna Gomes, a junior who is originally from Sri Lanka but grew up in Honduras.
"Sometimes kids are too attached to their parents, sometimes parents are too attached to their children "" here at Trinity a lot of families come to see their loved ones off because they want to spend as much of those last moments together as possible," said Juan José Morales, a senior from Guatemala.
The focus of ISO is to provide opportunities to get to know San Antonio and the U.S. as a new resident, and students are appreciative that such an event exists, if only to give them time to get over their jet lag.
"This is my first time in the United States, and I just arrived today, so it's kind of crazy," said first year Maddy Nguyen from Vietnam. "My first major impression was the sky "" at      home, there are always clouds everywhere and you can't really see it, but here, it's clear."
Other students, including Hector Inestroza, a first year from Honduras, cite day-to-day interactions as one of the major differences between their home countries and America.
"A challenge for me as I adjust will be the culture. Speaking only English will also be difficult, but already I've noticed that people here are much more outgoing, talkative and friendly, and it will definitely be an adjustment," Inestroza said.
The role of the interns and the International Programs staff is essentially to make the transition between home countries and Trinity as easy as possible before the entire Trinity community returns to campus.
"Our priority is welcoming and understanding. We're always asking, "˜how can we help?' and we have found that we can help with everything from replacing misplaced travel documents or contacting airlines about missing luggage – our staff is very close, which is necessary so that we can react to any issues that arise," Stepanenko said.
First year Will Lin from China has a particularly sunny outlook, although he said he doesn't feel especially excited to be here.
"It's my second day here, and it's my first time in the United States. I'm not excited, because how can you be excited about being at home? I feel like I'm already at home." Lin said. "Right now, I don't see any challenges with the transition because I can't picture any bad things."