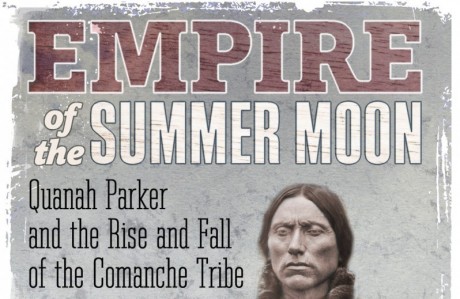 Award-winning author S.C. Gwynne, 2012's Reading TUgether Keynote Speaker, visited Trinity University on Aug. 22 to talk with various members of the community. The author of Empire of the Summer Moon, the Reading TUgether 2012 selection, spoke to a class of students under the BRIDGE program, visited with President Ahlburg at his home on Oakmont and then gave his keynote lecture in Laurie Auditorium.
Gwynne regaled students and staff with his colorful and inspiring life story. He jestingly advised aspiring writers to win a game show like his wife did to get their big break. After he quit his day job as an international loan officer, he focused on his writing. The road wasn't easy, but eventually he published a book, landed a job at a magazine and worked his way up "" eventually   becoming the business editor of TIME magazine.
He moved to Texas and was struck with curiosity about stories of the Western frontier and the Comanches that stubbornly halted Manifest Destiny. He started looking into archives and found an engrossing story that no one outside of Texas knew, and decided that he would tell it.
During the Q&A session, the students from the BRIDGE program asked Gwynne various questions, from his daughter to the parallels he saw in the immigration of the white man on the Native's land and the contemporary volatile issue of immigration. He spoke more about personal reactions to the story in his book since his goal was merely to act as a reporter, relaying what occurred: the grisly nature of both sides of the conflict, the unreliable accounts of the time and the shock about these really interesting characters in the American saga that he had never heard of till he moved to Texas. He also spoke more about the method and challenges of writing the story. Weaving the broad story of the rise and fall of the Comanche nation and the intimate story of the Parker family proved difficult.
Being in San Antonio was an exciting prospect for Gwynne because the majority of the battles occurred in or around the area. He even showed on a map the area the Comanche occupied.