Staff Editorial: New year, new paper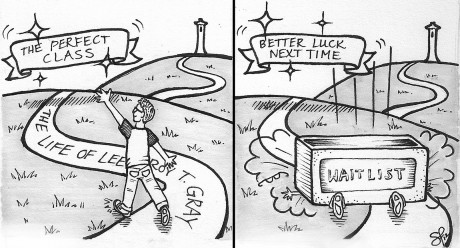 As you may have noticed, The Trinitonian got a makeover this summer. Everything from the print edition to the newsroom itself underwent change. In some cases, it was a long time coming (the print edition hadn't been redesigned in five years), but every change was made so as to provide a better service to you, the reader, and the Trinity community. We feel that in order to carry out our role as the student-edited press, we must be vigilant in bringing you information in the most efficient and user-friendly way possible.
With careful consideration given to each font and color choice, we worked tirelessly over the summer to create a more modern and streamlined design that we hope better presents the editorial content of the paper. We aimed to make the print version of the paper more graphically appealing and are working to incorporate more photos to aid in the telling of stories.
For our website, we relaunched an updated and more comprehensive version of trinitonian2020redesign.mystagingwebsite.com, making it more interactive and the process behind the newspaper more transparent. We've also begun producing web-only content, so be sure to check out the slideshows from various events and read Web Editor, Matt Kafoury's weekly column. We are continuing to build our social media presence with Facebook and Twitter and hope you will follow us for the most up-to-date information on campus news and events.
In terms of editorial coverage, we're attempting to build upon our success last year as number one in our region, according to the Society of Professional Journalists. We brought in experts and professionals in the field of journalism during our week-long training to facilitate discussion and critiques of the paper.
After feedback on the health issue from last year, we've decided to add 14 special sections or themed issues to our line-up, so as to better serve your specific interests as readers. The first one, "The Bucket List," can be found on Page 9.
Our advertising team created multi-platform advertising packages and a media kit so as to better meet the needs of businesses. Their efforts continue provide us the necessary funds to print the paper.
The business staff worked to bring the paper into the 21st century by requesting new equipment and software from special student activity fee funds set aside for capital equipment (a big thank you to the Association of Student Representatives for helping us make it happen). In addition to managing our $100,000 budget, the business staff is also exploring a new venture in the form of photo sales (stay tuned for more information).
Finally, we're working to develop our brand and become more involved on campus. In the coming year, The Trinitonian will help to orchestrate three major events. First, we will participate in the third annual First Amendment Week (Sept. 24-28). Second, we will host an Alumni Open House (Nov. 9 at 4 p.m. in the newsroom located in downstairs CCI), which is open to the entire Trinity community. Third, we're planning an event, similar to Taste for Trinity, called Best for Trinity where companies you voted as being number one in their field will visit campus to share their services.
So, Trinity, now it's your turn. Whether it's positive or negative feedback, we want to hear from you. You can write a letter to the editors at [email protected] or fill out our feedback form at trinitonian2020redesign.mystagingwebsite.com. Tell us what you think we need to change, cover or do away with in the coming year, and thank you for reading The Trinitonian!
View Comments (1)