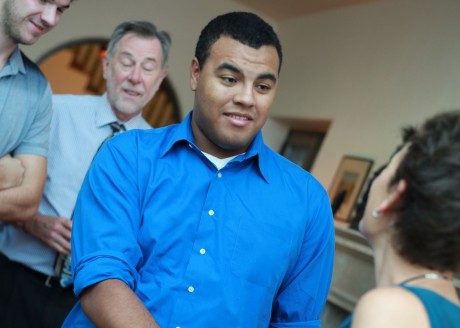 College is a once in  a lifetime experience, but for many it is a far-off dream. For three students, sophomore Christian Tovar-Vargas, first years Annalisa Trevino and Arden Houghton, they are the first in their families to go to college.
Tovar-Vargas grew up in a family where neither one of his parents went past high school. In fact, his father only attended school for one year because he lived in a rural area where schools were not yet established. Despite these obstacles, Tovar-Vargas was able to overcome the many challenges first-generation, under-represented students (FGUS) face and get accepted by Trinity University based on the merits of his hard work in high school.
"I didn't get really serious about college until I got into high school. One of the events that really pushed me to strive for a higher education was when I found out my high school rank. I still remember that day," Tovar-Vargas said. "I went into my counselor's office to print out my transcript and found out I was the valedictorian at the time. Right when I found that out, a lot of pressure was put onto me by my counselors because they knew I had potential to be something special."
Tovar-Vargas, a native of San Antonio, actually submitted his application to Trinity two days before the deadline, so he and his family were overjoyed when the acceptance letter arrived in the mail.
"My parents were really excited when I got accepted, especially my mom, because I was going to stay home and I could see my little brother grow up and still be a figure in his life," Tovar-Vargas said.
Tovar-Vargas credits the Trinity bridge program with helping him adjust to the unfamiliar territory of a college campus and also opening doors to invaluable connections within the university.
"Not only does it help assimilate people into the college life earlier, it also provide students an opportunity to meet important figures on campus that they can use as a good resource to help them out if they do encounter hardships within their first semester of their college experience," Tovar-Vargas said. "I know specifically for me I used a lot of that support system in the first couple weeks of school because I had a tough time assimilating myself into college life, making friends, getting through the tough courses and making the transition from a public high school to a private university where standards are different."
For Trevino, there was never a doubt in her mind that college was in her future.
"I knew from when I was born that I wanted to go to college," Trevino said.
When Trevino was in elementary school, she remembers her physical education class would celebrate students' birthdays by asking students what their favorite food was, what they wanted to be when they got older and what their wish was.
"I remember the first time I stood up in front of everybody, I was five years old and I told people what I wanted to be when I grew up was a lawyer, and everybody just kind of looked at me not really knowing what that was," Trevino said.
Trevino's desire to attend college heightened as she grew older. The hallways of her charter school were named after colleges, and her locker was at the intersection of Rice and the University of Texas. This motivated Trevino even more, but her status as a FGUS made the college application process tough.
"For me, it was really more of an emotional journey because I applied to so many different schools, and most of them were out of state. I kept getting rejection after rejection after rejection, so I was literally at such a stressful point in my senior year that I didn't even want to put forth effort and I didn't want to even go to school because I just kept wondering how is it that all of this work that I've done for the last four years in high school isn't paying off like everybody said it would. Everybody hyped up the college process so much, but nobody really knows how terrible it is and how emotionally grueling it can be on someone until they go through it themselves," Trevino said.
Just as Trevino was starting to lose hope, a Friday lunch outing with her father turned into a day she will never forget.
"My dad has off every Friday from work, and we were going to go eat lunch. He got the mail because it got there early, and he came in with an envelope from Trinity. I didn't expect anything. I didn't pay attention, honestly, to the application deadline or to when they would respond with your fate," Trevino said. "I opened it up and it said "˜say yes' on the front and then it said "˜to Trinity University Class of 2016′, and I just started crying because it was my first acceptance letter and I looked at my dad and he started crying too."
Arden Houghton viewed college as something that was just expected of her.
"For me, college was never really a question," Houghton said. "It was just this unsaid thing that I knew I wanted to do."
Houghton also believes the bridge program eased the transition for her once she arrived at Trinity.
"The bridge program really helped me get used to the campus and how Trinity works compared to high school at an easy-going pace that didn't overwhelm me," Houghton said. "I've definitely taken advantage of the benefits the program presented me with, and it's made me a lot more comfortable here."