New acrobatic yoga club teaches students to fly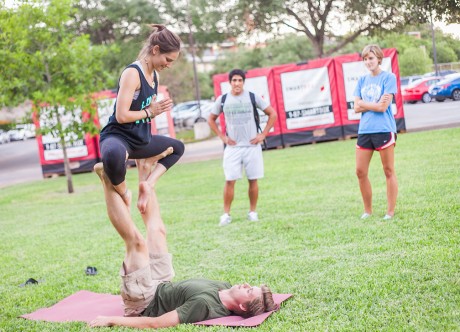 Passing by Prassel lawn, you may have noticed a constantly changing group of partnered students casually lying on top of each other and gliding through seemingly impossible positions in the air using only each other's various limbs as support. Those students have been participating in what is called an "acro jam," which is the name for a session of acrobatic yoga.
"Acrobatic yoga is basically like partner yoga, where there is a base person, a flyer, who is moving through the air basically supported by the arms and legs of the base and a spotter who makes sure nobody falls," said Ruthie Ocean junior English major.
Ruthie Ocean was first introduced to acrobatic yoga over the summer through her sister at Summerfest in Houston and is responsible for the fad's recent appearance at Trinity.
At Trinity, the core group of about 40 participants has joined the Facebook group Ocean started earlier this semester to spread the word.
"Our Facebook group has 42 or 43 people right now, and they're basically people who have walked by and then asked about it. It's very aesthetically pleasing and gets people's attention. People always walk up and ask "˜what are you guys doing?' They sometimes ask how to get involved after seeing us," Ocean said.
Helen Fiegenschue, a junior international studies major, has been involved with the club since it first appeared on campus a few weeks ago.
"Maybe one of the most important things I love about acrobatic yoga is the stress relief. After an hour of play, I feel so much more relaxed and focused, even though I spent that entire hour concentrating and pushing myself physically," Fiegenschue said. "I get all the physical benefits of a workout, plus the mental calm that comes from yoga and meditation."
The sense of community within the club is another positive factor in her decision to be so involved.
"A great aspect of the club is the incredibly friendly and social atmosphere at every jam. Everyone is so open and willing to learn and excited to be there that it creates a really positive environment," Fiegenschue said. "Plus, at almost every get together we have there is always at least one passerby who stops and gives it a try, which really keeps things interesting."
Lauren Hedgren, a junior sociology major, is also involved in the group and has attended several of the jams that have happened so far this year.
"This summer I visited Ruthie in Houston, and she took me to an acro jam," Hedgren said. "I was basically terrified because all summer I had seen these crazy pictures on her Facebook of people in the air doing these crazy poses, and I was so not about to do that."
Upon arriving at the acro jam with Ocean though, Hedgren was convinced to participate in the session.
"Everyone there was super warm and welcoming and convinced me to play with them. It was a terrifying and exhilarating experience, but it was ultimately a really enlightening one, too" Hedgren said.
The acro jams on campus consist of between nine and 15 people but are usually fairly impromptu and announced on the group's Facebook page and by word of mouth.
"I think one of the best things about acro is that it teaches you not to underestimate the capabilities your body has," Hedgren said. "It's super empowering to know that you can fly someone "" or be flown "" and do all these crazy cool tricks without much experience at all. It's very gratifying and rewarding."
View Comments (1)