Close encounters of the furred kind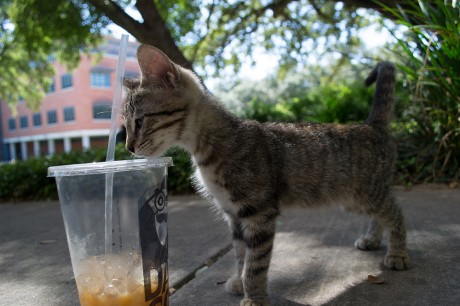 Students walking by Marrs McLean may have noticed a small, inconspicuous white sign on the makeshift wooden walkway leading up to the building. Upon further inspection, the sign explains the presence of a family of cats.
The latest addition to campus, this family of cats has recently made Trinity University their home.
Two kittens, one silver tabby and one solid gray, and their mother and father, solid black and a brown tabby with white, respectively, have nested below the wooden walkway outside Marrs McLean.
The kittens are a hit with Trinity students and are often the center of attention on the lawn by Miller Fountain.
In charge of fostering the kittens is Cat Alliance Trinity (CAT). A member of CAT brings food and water to the cats daily while monitoring their development. CAT plans to leave the kittens where they are, with their parents. Once the kittens are old enough they will be taken to the vet to be neutered.
Students can interact with the cats at their leisure but need to respect their need for privacy.
CAT is a non-profit organization that manages the population of stray cats on campus.
The program was first initiated at Texas A&M and Princeton University several years ago.
Feeders are responsible for feeding a set number of cats on a specific location and day of the week.
If students identify additional cats they can contact Vee Dubose of CAT at [email protected]
Leave a Comment