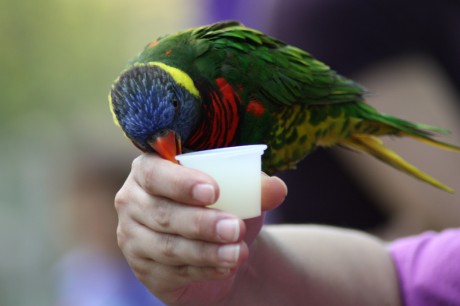 Family weekend is coming up, and those that have relatives coming into San Antonio are probably starting to wonder where they should take their parents and siblings. Here are just a few suggestions you could give to the family in and around the San Antonio area.
Blue Star Art Complex
116 Blue Star

San Antonio is well known for its art scene, and Blue Star is surely one of its top exhibits. Check out a variety of mind-bending contemporary styles, and see the city's creative side with your family.
Ripley's Believe It or Not! Odditorium
301 Alamo Plaza

It's got giant tires, elephant skeletons, neon glowing face masks, a "4D" movie theater and to-scale human wax figures "¦ what more could you want? Basically, it's a museum for weird and unbelievable things and it's a good time. It's also right in the middle of downtown, next to the mall and a two-minute walk from the Alamo.
Spring Loaded Trampoline Park
6700 IH 35 North
New Braunfels, TX 78130

Okay, so it's a ways to New Braunfels, and trampolines aren't your typical daytime activity with the family but dang does this look fun. Every conceivable surface is either springy trampolines or blue pads. They also have an entire basketball court that is made up of one giant network of trampolines. Think of that old show SlamBall. If you have a family willing to try something like this, take them and take pictures. It will probably be hilarious.
Japanese Tea Gardens
3875 N. Saint Mary's St.

Located just a 5 to ten minute walk from campus, this spot is a good place to calmly stroll with the family, enjoying the manicured gardens and rock features.
San Antonio Zoo
3903 N. Saint Mary's St.

Just a short walk up the road from the tea gardens is the San Antonio Zoo. You can never be too old for a zoo, and this one is one of my favorites. They've got all of your zoo necessities, including lions, tigers and bears. They also have an exhibit where you can go inside and feed the colorful birds nectar from a cup.
Traders Village
9333 SW Loop 410

This is the big grand-daddy of all flea markets. It happens every Saturday and Sunday from the wee hours of the morning until around 5 p.m., and almost 1,000 vendors set up shop. In addition to having knick-knacks, jewelry, military surplus, churros, birds and all sorts of random things, this place also has a few carnival rides. I have to warn you, though: a lot of the items sold there are cheaply made, touristy and expensive. Still, it can be a fun experience, and there are a few authentic baubles lurking in the midst of all that factory-made stuff.
Alamo SegCity
124 Losoya St.

I am ashamed to admit that I have wanted to try this since I saw that YouTube video, "Chimpanzee Riding on a Segway." Basically, it's a Segway tour around downtown. It's expensive, around $35- $75 a person depending on which tour you want, but you can knock out every major sightseeing location in San Antonio in one fell swoop "¦ also, you'll be riding a Segway.