Jazz ensemble welcomes director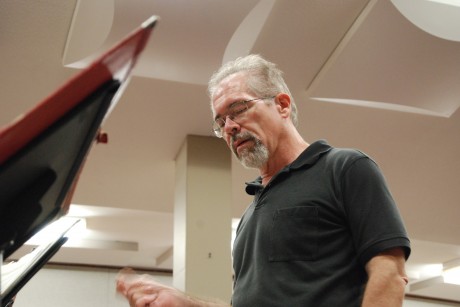 Chris Magee, a Virginia native, has taken the role as director of the Trinity University Jazz Ensemble.
Magee received his bachelor's and master's in music from James Madison University and his doctorate from the University of Iowa. He then spent three years performing in the Future Corps band at Epcot Center at Walt Disney World.
Magee then turned his attention to teaching so he could settle down and start a family. He taught for 12 years, moving around from Mississippi to Iowa and Virginia, before coming to San Antonio at the request of James Worman, associate professor of music and coordinator of winds and percussion.
"An opportunity arose for the jazz ensemble director and I was really happy to come do it," Magee said.
Although a rebuilding year for the jazz ensemble, Magee hopes to put in some good work with the ensemble this semester.
"We're going to get some momentum and experience and lay down the foundation for next semester," he said. "We have good students that are working and they get better week to week."
On the set list for the ensemble's Nov. 3 performance are works by Stan Kenton, Maynard Ferguson and Thad Jones.
The jazz ensemble is different from other university ensembles in that each player has his own specific part, Magee said.
"Every chair in the band has to be self-sufficient and independent," he said. "You can't lean on another person and you need to be a little more confident to play."
Though no longer a dominant art form in America, jazz has been called America's greatest contribution to music and Magee believes that it is a shame jazz is not appreciated more in America.
"Americans have forgotten about jazz in a lot of ways," he said. "There still is a thing called jazz and it's worth supporting."
Leave a Comment