Trinity television network hosts new game show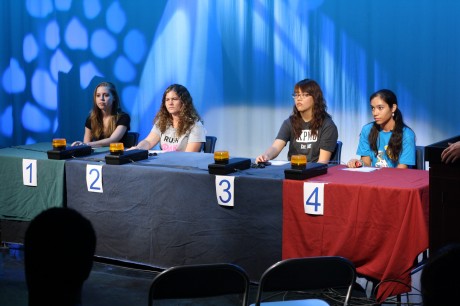 This week marks Trinity's annual participation in First Amendment Week on campus. The TU community recognizes the reach and impact of the First Amendment, which protects the freedoms of religion, speech, press, and right to assembly, in a variety of ways over the course of the week every year, but this is the first year that the university television station, TigerTV has participated.
TigerTV had its first full-length game show on Wednesday, Sept. 26, and it was all about the First Amendment.
"It was Dr. Henderson's idea "" since the Trinitonian and other groups on campus support First Amendment week and recognize it as such a big deal, she thought if she could get everyone on TigerTV to do something, awareness would be even more far-reaching. She pitched it to students and people involved at the television station and emphasized the need for students and everyone, really, to know more about their First Amendment rights," said James Bynum, the staff operations manager for TigerTV.
TigerTV has wanted to play a more prominent role in First Amendment week since its adoption on campus; however, the television managers had not found an outlet for participation until Henderson's suggestion. Upon deciding that they wanted to do it, Bynum and TigerTV station manager Laura Sandling began thinking of big ways to make the show a success.
"James, our staff advisor, and I started writing questions related to the First Amendment for contestants to answer, and Dr. Henderson suggested that the grand prize be an iPad, and we were able to order that. We've been generally very excited about the whole thing," Sandling, a senior communication major, said.
In constructing the questions, Sandling and Bynum made sure not to build the First Amendment into the basic structure of the show, with the hope that the game show can be altered later to suit different subjects and interests.
"Our goal this year is to increase awareness of TigerTV on campus because so many diverse students put in a lot of work here and we really want to share that with the Trinity community," Sandling said.
"We hope that the TigerTV Challenge will bring an even more diverse group of students to our viewership "" we hope that they will want to go home and turn on channel 14 in their dorm rooms," Sandling said.
Wednesday's TigerTV Challenge featured a live audience, snacks, and drinks and it was held in Trinity's own television studio in the upstairs part of Richardson Communication Center. Contestants who participated were given TigerTV t-shirts, and the grand prize winner received the newest iPad.
Chase Bartlett, senior accounting major, hosted the show and felt proud to be able to contribute to TigerTV's efforts.
"I'm just excited that TigerTV is participating in First Amendment Week. The First Amendment is obviously something that is hugely important to our country and Trinity always does a great job celebrating it "" so it means a lot to me that I get to contribute to this event, and if things go well, it should be the first of many that TigerTV will put on in the future," Bartlett said.
Bartlett entertained 25 viewers and out of the four contestants sophomore Leah Hoffpauir emerged victorious, winning the free iPad.
Leave a Comment