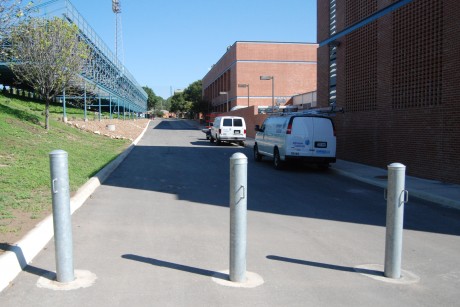 In one of several moves to make campus more pedestrian-friendly, facilities services blocked access to the road west of the William H. Bell Athletic  Center with bollards following completion of construction near the Bell Center. Originally, construction blocked access to the road over a year ago, which gave facilities services an opportunity to extend road closure.
Facilities services also focused on reducing through traffic. The road closure succeeded in greatly reducing vehicular traffic from the road west of the Bell Center continuing north of the football stadium and west all the way to Shook Avenue. "We don't want traffic to cut through campus that would normally cut through campus. By putting the bollards in, the vehicular traffic has gone from a significant amount to almost nothing now," said John Greene, director of campus planning and sustainability and director of facilities services.
The bollards also leave room for flexibility, allowing physical plant to open and close access to the road as needed. "They are removable for emergency and service vehicles. For football games, it is a great place to keep team buses and vans for teams that are here," Greene said.
Physical plant plans to make the road closure permanent. "I think that ultimately getting the campus to be a pedestrian friendly campus is the right thing to do. For the foreseeable future, the bollards are staying," said Greene.
Additionally, physical plant installed two posts in front of the outdoor pool in order to make the campus more pedestrian friendly by limiting interaction between pedestrian and golf cart traffic on campus. "With the two little posts there we've dramatically changed that whole aspect of students and golf carts passing through that area," said Greene. This small change also impacted facilities services, forcing them to alter the usual routes taken by the golf carts.