Portals to the past: a history of Trinity in photography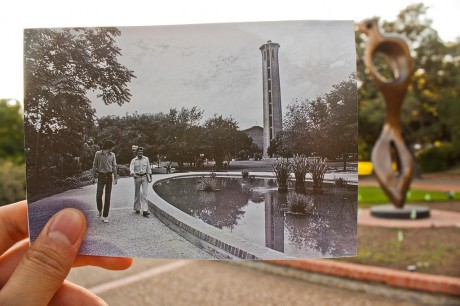 Sophomore Anh-Viet Dinh spent the past summer poring over old photos of the Trinity campus in the Special Collections section of the library. The result is a photo exhibit that will open at 5 p.m., Wednesday, Oct. 10 on the second floor of the Coates University Center.
Dinh's work features past photos of Trinity held up against their modern-day locations, a concept that has recently gained popularity online, but Dinh said he came up with the idea of doing it on Trinity's campus.
The process began with selecting the original photographs from Special Collections.
"I had to look through thousands of photos all in different folders," Dinh said. "It was really hard to find good ones."
Archivist and Special Collections librarian Amy Roberson worked side by side with Dinh over the summer, facilitating the process of gathering photos from the archives.
"[Dinh] already had an idea of what would make good subjects," Roberson said. "We began going through the card catalog, and when [Dinh] selected a photo, I would scan it and email it to him."
Dinh then printed out the photos, held them up in front of the modern-day location and took his own shot.
Because of the connection to architecture and Trinity history, Dinh's work drew the attention of assistant professor of art and art history Kathryn O'Rourke, whose first year seminar focuses on architecture and the work of O'Neill Ford, who designed much of Trinity's campus.
"The exhibit is dealing with the issue of history and how we live it on a modern campus," O'Rourke said.
The students of O'Rourke's seminar will be curating the exhibit as well. Pairs of students are responsible for writing an object label for each photograph, and the class as a whole is responsible for a 500-word introduction to the exhibit.
"The gallery allows students to look at our campus as it was in the past," Dinh said.
Apart from teaching a lesson on the history of Trinity's architecture, O'Rourke believes that the exhibit will enrich students' experience.
"When you leave college, you take so much with you "" education, friends," O'Rourke said. "One of the things you can't take with you is the experience of the place. It's really special, and the more students learn about it, the more special it becomes."
View Comments (2)