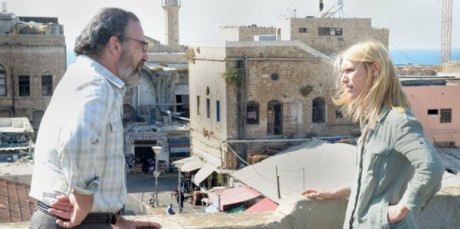 "Homeland" swept the 2012 Emmy awards. Winning the four most highly coveted categories for a television drama, Outstanding Drama, Outstanding Writing for a Drama Series and both the Dramatic Actor and Actress categories, "Homeland" shocked the critical world of television.
In its rookie season the show had managed to unseat some of the most renowned shows and actors in the medium. The show even managed to be the first Outstanding Drama award in Showtime's history. In short, "Homeland" provided the Emmys with a miraculous storyline of an underdog triumphing in the face of favorites, but as the awards came to a close on Sept. 23, a major problem still existed. Namely, I hadn't seen a single episode.
I had heard many recommendations for the show, read dozens of critics praise it and even read many reviews more like love letters than critiques but still never found time to watch it. The biggest awards in TV had crowned this show the perfect drama, and yet I couldn't comment past "I heard it was pretty good." This was quickly fixed. In  just under 48 hours, without much sleep or productivity, I caught up on the so-called "best drama in America" and was finally ready to join the chorus of those praising it but then just as quickly I realized I couldn't do so.
"Homeland" is great, I will say it now and with emphasis so as not confuse you as I continue this column, but I quickly realized it simply isn't the best drama on TV and as excited as I was coming off my sleepless binge of the 12 episodes, I realized I couldn't get caught up in all of the post-Emmy excitement.
Of the four categories I mentioned that the show won for I began to think of all of the other nominees and realized how despite the "Homeland" mania I was caught up in, I could truthfully only support one of the wins the show took home.
Claire Danes deserved it. Carie on "Homeland" is unmatched among female characters on TV and Danes' performance in the role is even more so. The other three wins, although they make for a great underdog narrative, I cannot agree with. "Breaking Bad" put out an incredible fourth season that deserved the Outstanding Drama Award and most likely Bryan Cranston the Dramatic Actor Award with it. Although "Mad Men" could be seen to have had an "off season" narratively, Jon Hamm's acting rose to an unprecedented level, and if not Cranston for Best Dramatic Actor, Hamm most certainly deserved to finally be recognized in this category.
Furthermore "Homeland" is a beautifully filmed show with a pilot to match, but to say it outperforms "Breaking Bad's" episode "Face Off" with its countless shots and artistic decisions that are forever engraved into its viewer's consciousness is unsettling at best.
In short, I watched the Emmys and was caught up in the wave of "Homeland," but after being able to take a step back I realize its unprecedented success at the award show was an unfortunate set back for the industry and many of the other nominees it was competing with.
I highly recommend checking out the show for yourself, but in general after catching up with the "Best Drama in America," I am disappointed in the Academy's overwhelming support of the show over so many other outstanding shows that truthfully deserved the recognition.