"The Maids" offers an inside look at the lives of servants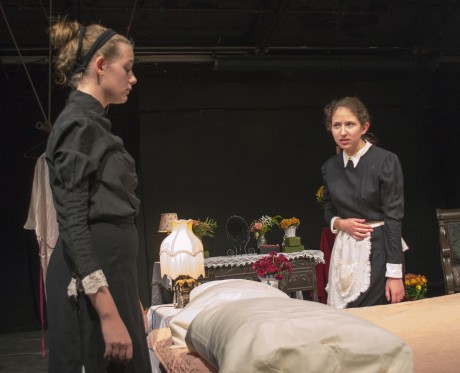 This weekend, students may take an opportunity to get some answers behind the eerie white eyes that they might have glimpsed on posters scattered around campus. On it two creepy maids, mirror images of each other, seem to be plotting something behind the receding figure of their mistress, whose elegant red dress spills out behind her. This weird triangle is the subject of Jean Genet's "The Maids," being performed this weekend at the Attic Theatre in the Ruth Taylor Theatre building.
The show is a student-driven production and is directed by senior theatre-major Noah Voelker.
The maids themselves are the two principal characters of the play, whose creepy characterization on the poster reflects their near-madness which forms from their hopeless desire to be like their mistress.
"There's this strange creepy-delicate quality to the sister's relationship," said senior Anastasia Holl, who designed the poster partly inspired by watching scenes in rehearsal.
Grounded firmly without social mobility, the maids find that the only way they can reach such heights is through somewhat sadomasochistic role-playing. Their identities become mutable and fluid in the process and complications arise when they take measures to bring the game into reality.
"This play is a lot about identity and how your environment can change your identity," said Voelker. "And how the desire to achieve a certain social status is much more difficult to realize even if you're willing to go to extreme lengths as the maids are."
It is an ambitious play to take on, combining these psychological themes of fractured consciousness with a socio-political message. The French playwright Genet developed an uncanny and disturbing understanding of authority in his life as a vagabond, prostitute, thief and convict. He also sympathized with socially oppressed groups and was a controversial political activist.
"He was one to say don't try to work within the system, the system itself is what makes you oppressed, the only way to do it is to work outside of it," said Voelker.
One of the ways in which Voelker attempts to convey this message is through immersing the audience in the experience of the show. He emphasized the importance of theatre as a social event that cannot exist without an audience that shares some purpose in making it happen. Audience members will immediately notice that they are in for a different experience than they might expect. A clue on the poster, "Evening wear recommended," points to this.
"This play is an invitation to come experience something and you should be properly dressed for that otherwise it's not going to be the same. There are some things there I don't want to give away," said Voelker.
A big challenge of the play is the matter of having characters that are playing other people, as in the beginning of the show when Claire is pretending to be her mistress, simply known as Madame. Voelker commented that this isn't apparent in the text itself and that the actors' physicality is an important strategy in conveying that duality.
"We spent a lot time just dissecting this text because at any given point in your line you could be a number of people even though you're just one character," said senior Caitlin Bayer, who plays Claire. Bayer also commented that she had learned to appreciate that we are different people depending on who we're around, and that maintaining different identities at once is one of the most challenging parts of the show.

Show times are tonight and tomorrow at 8pm.
Leave a Comment