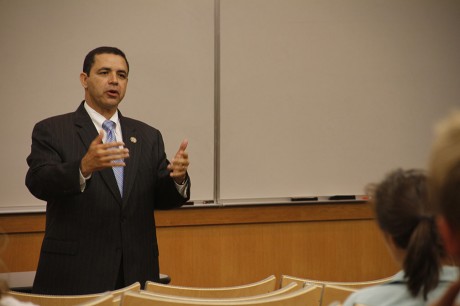 Henry Cuellar, a United States congressman who represents the 28th district of Texas, spoke to a crowd of approximately 30 people on Monday, Oct. 22, in Northrup 040. Ana Price, acting as the president of Trinity's chapter of Pi Sigma Alpha (the national political science honor society), introduced Cuellar. A camerawoman, not affiliated with the university, recorded the talk. It lasted just under one hour.
Cuellar, who is originally from Laredo, TX, is currently serving his fourth term in Congress. In his speech, the congressman focused on the divide in Congress between Democrats and Republicans. Repeatedly, he noted his bipartisan record and told multiple anecdotes about his attempt to remain neutral, concentrating on his constituents first.
"In my opinion, Washington has become so hyper-partisan," Cuellar said. "Things only get done in Washington when people work together in the middle."
Expanding on this point, Cuellar referenced a story about Hal Rogers, chairman of the House Appropriations Committee. According to Cuellar, Rogers once gave three main reasons for the increase in partisanship: the invention of the airplane, the invention of the television and the fact that the rules have changed over time.
The airplane led to increased travel, which meant that representatives were spending more time in their districts and less time creating relationships with each other that would allow for cooperation.
Also, members of Congress now speak to the television and address the American people at home instead of speaking to each other in the same room.
Lastly, the rules have changed regarding voting, and political language has altered for the worse.
Cuellar added a fourth cause: a "window" that is only open for a few months after every election.
"That window closes really quickly. People have good hearts, but with the group mentality everything changes completely," Cuellar said.
One of the topics Cuellar addressed was the subject of illegal immigration and its reform. He said that in 2009, shortly after President Obama was elected, he and other members of Congress reached out to the president about immigration reform. Cuellar outlined three aspects of reform that he deems essential to success: stronger border security, a guest worker plan and a strategy regarding undocumented peoples already in the United States.
As the ranking member of the Border and Maritime Security Subcommittee in the House Homeland Security Committee, Cuellar is an advocate for a strong national security policy. However, he does call a fence along the border a "14th century solution to a 21st century problem."
Most recently, in 2009, Cuellar authored a bill in Congress that would create a task force to protect U.S. border cities from violence affiliated with drug trafficking, human smuggling and kidnapping activities.
Hannah Vaugh, a senior, attended the speech and found Cuellar's words about partisanship particularly interesting.
"I appreciated his focus on trying to advocate the depolarization of Congress and that he is a Democrat willing to cooperate with Republicans," Vaugh said.
Sophomore Claire Inselmann also enjoyed Cuellar's message.
"I'm grateful for his nonpartisan language," Inselmann said. "He gave examples on how he was willing to work with Republicans, and it was refreshing to hear that actual politicians can work with each other."
According to the biography page on his website, Cuellar was noted by the San Antonio Express News as having "demonstrated an independent nonpartisan mind-set" and placing "his district ahead of his political party."
Following his speech, the congressman briefly opened up the floor to questions from students and a few other individuals from off campus. Students asked questions about his sponsorship of the Stem Jobs Act, the "window" regarding partisanship and his experiences in Congress.
Congressman Cuellar represents 12 counties, from Seguin (just east of San Antonio) down to McAllen (on the U.S.-Mexico border). In his parting remarks, Cuellar encouraged students to apply for internships that are available in both his Washington and San Antonio offices.