Maroon Madness kicks off the start of basketball season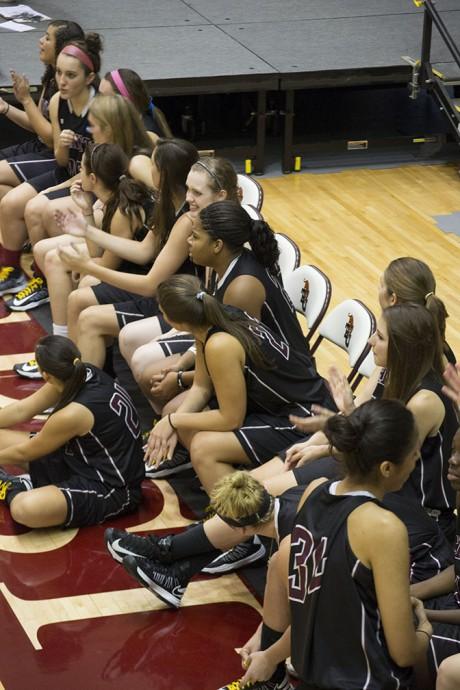 At 9 p.m. Thursday, Oct. 25, Trinity Cheer hosted an introduction to the Trinity University men's and women's basketball teams. With the start of a new basketball season, the Trinity cheerleaders hope to start a new Trinity tradition.
Maroon Madness, sponsored by the Association of Student Representatives, featured an introduction to the players on the basketball teams as well as dance performances, games and a costume contest. Loon-E Crew and the Korean Student Association performed the "Gangnam Style" dance made by popular by Korean artist Psy. Trinity Cheer also held a dunk contest, a relay race between student organizations and a three-point shooting competition between the men's and women's basketball teams.
"The main goal of the night is to rally support for the basketball team and act as a sort of pep rally," said Victoria Gonzales, senior and Trinity Cheer co-captain.
"It's good to have something to get fans ready for the season," said John Boxberger, senior basketball player. "We want to make sure we get as much fan support as possible."
Though the event was not held last year, it typically began at midnight when the official season began per National Collegiate Athletic Association rules. This year, however, Maroon Madness began at 9 p.m. so more students could attend and show their school spirit.
"It was more conducive to get more fans to have the event earlier," Boxberger said. "Attending shows your excitement for the school and enthusiasm for Trinity athletics. Because we have such a close-knit community, it's important to support all athletics."
Apart from organizing and hosting Maroon Madness, Trinity Cheer is also trying to start a new campus tradition by asking students to wear maroon on Fridays to show their school pride.
"Trinity is great at a lot of things, but we are lacking in visibly showing school spirit," Gonzalez said. "We're trying to bring students together to get everybody to show school spirit."
Student support at Trinity can be difficult to achieve because of competition with all of the things to do in San Antonio.
"Because Trinity is a small school in a big city, it can be tough to get people out to events with all the things going on in San Antonio," Boxberger said. "If Trinity were in a small college town, things would be different."
Many Trinity staff members already take part in the tradition of wearing maroon on Fridays, particulary those in the office of Campus and Community Involvement which began the tradition last year. David Tuttle, dean of students and associate vice president for student affairs, believes there is no reason that students cannot do the same.
"It is so simple that it could be done really easily here," Tuttle said. "It can be harder to generate the kind of spirit that they can have at bigger schools, but this is a tradition that could take hold here and be a great sign of support for our teams and our university."
Trinity Cheer has asked student organizations to participate in this new tradition and motivate others to do the same. In addition, Residential Life staff will be handing out prizes to those sporting maroon today, Friday, Oct. 26.
Gonzalez said that she wants as many students to participate as possible and continue the tradition for years to come.
"I hope it does carry on from year to year. We would really like to see this tradition continue," Gonzalez said. "Because this is more of a student-led tradition, if students want it to continue then it will continue."
Leave a Comment