Staff Editorial: The Tiger identity crisis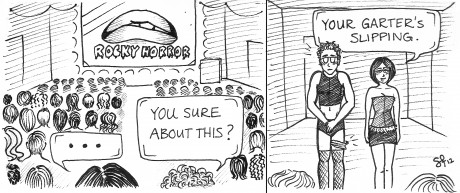 For as much as we talk about the benefit of our close-knit community, we as students sure do a poor job of actively supporting that community. School spirit, Tiger pride, whatever you want to call it "" the fact is that it isn't exactly noticeable on campus. But we don't think that means Trinity students aren't proud of our school or grateful for everything we've been given, the problem is one of expression.
We may not have a multi-million-dollar football program like the University of Texas, but that's no reason not to show just as much pride in what makes Trinity great and to remember that big things can still happen at small schools, i.e. The Mississippi Miracle (See Pages 14-16). There's pride to be taken in the ways that our community does things differently, and one of the biggest distinctions between us and big schools is the opportunity for individuals to start traditions, make a recognizable impact and be remembered.
Trinity University Cheerleading has taken the lead on what they think will foster campus spirit (See Page 10). They are calling on students to show their Tiger pride by wearing maroon every single Friday. Wearing our colors on Fridays is something that much of Trinity's staff does already, but Tiger cheerleaders hope to start a tradition of their own, one led by students.
But some of you may still be wondering: Is not displaying school spirit really a problem? Who really cares if you show up to a football game or wear a Trinity T-shirt to class? Also, isn't individuality one of the things that make this school great?
To that point, we'd like to agree with you. There's much more to community and school spirit than showing pride for pride's sake, but it's about being part of a movement, part of something bigger than yourself, being willing to humble one's self for the benefit of the community. And students do benefit from this sort of community. Tradition and school spirit strengthen our Trinity experience "" not just for us but also for future generations. If Trinity truly wants to be "the Harvard of the South," it has to mean something to be a Tiger. Stronger community bonds mean stronger alumni support which means a better undergraduate and post-graduate experience. Community gives our experiences here meaning; it gives our victories and defeats context, surrounds us in our past and vaults us toward the future.
More importantly, student-led traditions define who we are as a community. Sure, the administration facilitates community through residence halls and university-sponsored traditions like Vespers and Christmas on Oakmont, but the true solution to a lack of school spirit must come from the students. Our community cannot be handed to us. It must be worked for, earned and taken. The onus is on the students to show what the Trinity community really is, what it really means to be a Tiger.
Today and every Friday from here on out wear that maroon shirt and be a part of a new beginning.
Leave a Comment