Students provide frightful fun for Halloween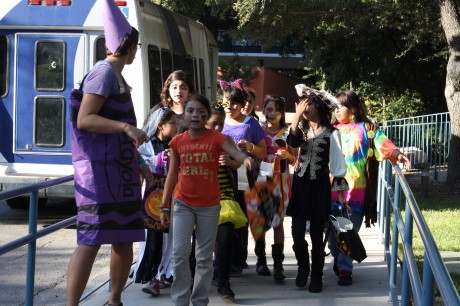 For once, pirates won't be stealing anything from people. Instead, they will be giving out free candy to those brave enough to survive their haunted hall. In addition to the Swashbucklers' haunted hall, children will also be coming to Trinity's campus for their annual trick-or-treating venture in the first-year area.
The Swashbucklers' haunted hall, taking place from 8 p.m. to 10:30 p.m. on Friday, Oct. 26, on the second floor of Myrtle, started in 2007, and this year will be the fifth time the residence hall will be transformed into a haunted hall.
"Originally, it was just one suite of people, and after that it's been as much as the whole hallway doing it," said senior Swashbuckler Jacob Hugentobler.
Jack Martin, a junior Swashbuckler, believes that the haunted hall, which is free admission, is a good alternative to other off-campus Halloween parties.
"It's a safe start to the Halloween weekend. There's no alcohol involved, so it's just a good way to get into the Halloween spirit," Martin said.
Hugentobler said that visitors should look for the pirate flag outside Myrtle on Friday to find the haunted hall. Hugentobler also said that the haunted hall is not only great fun for visitors, but it is also a blast for the Swashbucklers themselves.
"Scaring people is definitely the best part of the whole thing. It makes all the hard work and planning that goes into designing this worth it," Hugentobler said.
Although he would not give away specific details about what is going to be in the haunted hall, Martin is confident visitors will not be disappointed.
"We've got all sorts of things laid out, from your common childhood fears to your more grotesque and gory scares, so there's something in it for everyone," Martin said.
For the past few years, children have come to Trinity to trick-or-treat and receive Halloween goodies from students living in the first-year residence halls. Kids came to campus again on Wednesday, Oct. 24 to trick-or-treat, and H.O.P.E. Hall also participated in the festivities.
"It's been a really strong program, and the kids have a lot of fun with it. For some of them, this is their only opportunity to go trick-or-treating, and just getting to come hang out with the big kids to see what college is like is a great experience for them," said sophomore Emily Brizzolara-Dove, director of administration for TUVAC.
Brizzolara-Dove gave out candy to children trick-or-treating last year, and she and her friends really enjoyed it.
"Last year my suite decorated our rooms and played Halloween music. One of my suitemates even dressed up. We really had a lot of fun with it," Brizzolara-Dove said.
First years and residents of H.O.P.E. Hall were encouraged to have candy available to hand out to trick-or-treaters, put up Halloween decorations and dress up.
Leave a Comment