Big Six organizations bring students together with carnival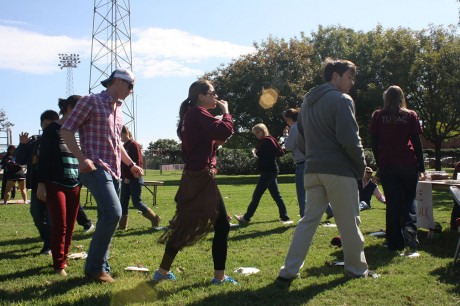 Last Saturday, Oct. 27, before the Trinity football game against Millsaps College, the area behind the home bleachers transformed into a carnival for the enjoyment of students and fans. The Big Six university-sponsored organizations on campus prepared a carnival that included free food, a cakewalk, face painting, henna, a caricature artist, a bounce house and many other festivities. In many of these activities, participants could win prizes by throwing darts at balloons or competing in a bucket toss.
These six organizations included Trinity University Volunteer Action Committee (TUVAC), Student Programing Board (SPB), Fraternity and Sorority Life, Association of Student Representatives (ASR), Student Ambassadors and Trinity Diversity Connection (TDC).
The carnival presented an opportunity for the Big Six organizations to join forces to benefit the whole school.
"It was a great opportunity for the university-sponsored groups to collaborate," said Jamie Thomspon, director of Campus and Community Involvement. "Some of the goals included building school spirit, drawing folks together and supporting Trinity athletics."
In the past, the carnival had traditionally been hosted solely by TDC.
"All six organizations came together to better interact collaboratively with the community as a whole," said Joe Moore, president of ASR.
The carnival itself began at noon and lasted until 1:30 p.m., allowing students and fans time to make their way from table to table, talking with each of these organizations.
Though the carnival seemed to go smoothly, there were some challenges in planning such a big event.
Joe Moore said that the number of organizations that needed to communicate presented an issue, as each group is very independent. Still, he said it did allow each faction to "get to know each other" and what the other groups stand for.
Jamie Thompson added that the timeline used to structure the event was also "not the model way for planning an event this large."
Next year, the groups hope to start organizing the event earlier in the semester. Despite these challenges, the carnival drew many participants.
"It was interesting seeing how all the different organizations came together to make the carnival happen," said first year Jeremy Winrow.
Thompson hopes the carnival will lead to more collaborations between student organizations.
"One of the key goals of the carnival was to provide an example of how other groups can collaborate and have a successful event," Thompson said.
Leave a Comment