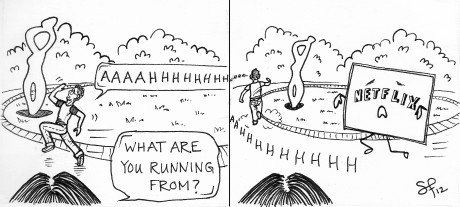 We, as students, like to complain "¦ a lot. Whether it's the absence of the pasta line in Mabee or the stairs added to Cardiac Hill, the lack of parking spaces on upper campus or the three-year residency requirement, it seems that there is always something to be unhappy about.
To a degree, venting is healthy and, in many ways, necessary, but our tendency to whine about whatever is bothering us in the current moment can undermine our credibility as individuals who really do have unique and valuable insight on how to improve this university and campus life.  Even worse, when complaining only leads to apathy and no action, it makes effective change impossible.
We commend the Association of Student Representatives this week for drafting a resolution to remove the bollards behind the Bell Center that block traffic between upper and lower campus. It's still unclear whether the resolution will have any effect, but it raises an interesting point: should the administration care about what we have to say?
The answer is both yes and no. Yes, they should care because this place of higher learning is supposed to be about us, the students, and if they're going to retain their student body and continue to recruit people, they need to ensure our happiness. Also, listening to us could save them a lot of time and energy when it comes to making potentially ill-received decisions. And no, because, while there are some things worth considering, their jobs aren't to cater to our every whim, and doing so poses the risk of losing sight of the big picture in favor of the popular will.
But that's not to say we shouldn't continue to share our ideas. We should just be strategic and thoughtful when it comes to picking our battles. Solis says ASR hopes to draft more resolutions pertaining to issues on campus in the coming year. If ASR is discerning, this will be a powerful tool for students to express their views on topics they deem important, but, if done incorrectly and without restraint, the resolutions will likely be seen as just another set of students complaining about yet another issue.
So before we get into a resolution frenzy, it's important we do our homework, ask questions about why things are the way they are and think critically about the answers. The university and student leaders have given us the tools to do this: either through ASR and their resolutions, by voting in one of our online polls or writing a guest column or through more direct routes like sitting down face-to-face with President Ahlburg during his office hours (check back next week for an article on just how many people take advantage of that perk). We should either seize these opportunities, or shut up and be resigned to the fact that things aren't going to change.