Symphony Orchestra performs classic repertoire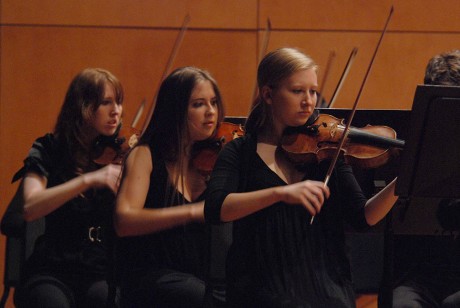 Trinity University's music department had its annual Fall Symphony Orchestra Concert on Monday, Oct. 29. Recently hired interim orchestra Ben Carlisle conducted the orchestra as the members performed three pieces of music.
Carlisle selected the three pieces, Mussorgsky's "Night on Bald Mountain," Schubert's "Unfinished" Symphony no. 8 and Arturo Marquez's Danzon no. 2.
"I chose the Mussorgsky because the concert is just before Halloween, and there's no better music for a concert at Halloween, right?" Carlisle said.
When selecting the music, Carlisle was also concerned with Trinity's dedication to history and tradition, so he consulted with Tyler White, who conducted the Trinity Orchestra in the 1990s and who was his conducting professor in graduate school.
"I talked to Tyler White to find out what he programmed on his first concert. I wanted to recognize some of the history of this ensemble. Among other things, he conducted the "˜Unfinished' Symphony. I also asked Dr. Ken Greene, who conducted the orchestra until this year, what he conducted on his first concert, and he also conducted "˜Unfinished.' It seemed natural that we should include that wonderful symphony in this concert," Carlisle said.
The third selected piece, a Latin American work, Marquez's Danzon no. 2, was selected because Carlisle believes that Trinity should incorporate its connections with the region.
"Marquez is a Mexican composer. His second danzon features Cuban folk tunes, and the piece was made famous a few years ago by the Venezuelan conductor Gustavo Dudamel and his Simon Bolivar Youth Orchestra," Carlisle said.
The students in the orchestra were excited about the concert as a moment to show off all of their hard work.
"We've worked really hard and [the evening of the performance] is when all the hard work pays off. I'm really excited about this music in particular because it's hard, and I know for a fact that I will get lost in the music until the last note, which is the best feeling ever," senior orchestra member Hoang said.
Carlisle recognizes that this collegiate orchestra is a particularly hardworking one, as he observed that this is the first group he has worked with that is "routinely better at the beginning of a rehearsal than they were at the end of the previous rehearsal."
"It's either magic or the members of Trinity's orchestra work really hard on their own between rehearsals. I have a feeling it's the second," Carlisle said.
Members of Trinity University's Jazz Ensemble also performed with the orchestra because there is overlap between the two groups, and there are students who are members of both.
"This was the first time I have ever performed with an orchestra, and I definitely enjoyed the process. The strings create such a rich sound that is so different than the sounds I'm used to in band. It was great to collaborate with other musicians and work towards producing beautiful music," said sophomore Casie Lomeli. "Dr. Carlisle did a fantastic job and made the process that much more enjoyable because he was excited and passionate about the music and about working with us."
The next upcoming event for the orchestra and all of Trinity's other musical ensembles will be the annual Christmas concert at 7:30 p.m., Friday, Nov. 30, in Laurie Auditorium.
Leave a Comment