The 007 best moments in James Bond history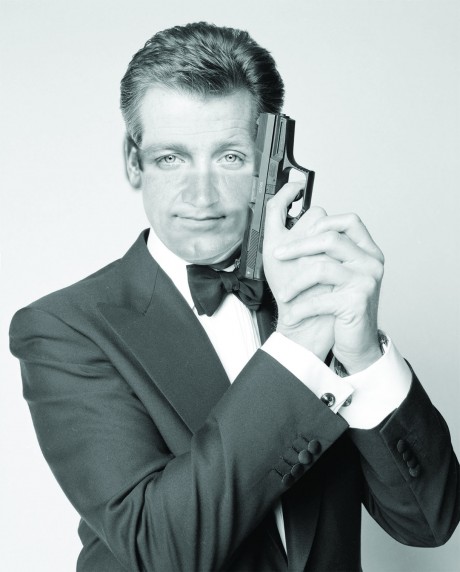 Fifty years ago, "Dr. No" was released. The movie starring a Scottish stuntman (Sean Connery, rival of Alex Trebek) and a bikini-ed damsel (Ursula Undress Andress) took the world by (stealthy) surprise. The first Bond film cemented the series as a cultural sensation: it paved the way for various elements in subsequent Bond films, but not only that. It also legitimized the British film industry and, most importantly, popularized bikinis.
Today, "Skyfall," the 23rd film in the series, releases in the U.S. My body double, Daniel Craig, is back, after his parachuting stint with the queen during the Olympics, for his third time as Bond, and it seems, according to reviews and reactions, that this might be one of the best, if not THE best, Bond movie. In celebration, here is a list of the 007 (I'm really milking this joke) most memorable moments of Bond, James Bond's film career.
#007 "DR. NO": The Bond girls are an intricate part of the Bond legacy. Honey Ryder, the very first of them, makes her debut coming out of the water holding a pair of sea shells.
#006 "GOLDENEYE": Sean Bean has unfortunately become a typecasted actor: the guy that dies. He's in the new "Silent Hill" movie, and I am willing to bet my entire paycheck (enough money to buy an entire bagel) that he's going to end up dying. In "Goldeneye," he, as spy 006, dies. Then somehow manages to die again.
#005 "LIVE AND LET DIE": There are literally dozens of videos showing the various death sequences in each Bond movie (that and all of Sean Bean's deaths). In one, Dr. Kananga, the villain, meets his maker when Bond shoves something in his mouth that literally inflates him and his ego. The human balloon rises up to the ceiling and explodes.
#004 "GOLDFINGER": I'm sure that a lot of momentous deaths, exposition and development happened in this movie, but the following exchange is the only one I remember. It has just the right amount (i.e., a lot) of cheesiness to it.
Bond: "Do you expect me to talk, Goldfinger?"
Goldfinger: "No, Mr. Bond, I expect you to die!"
#003 "A VIEW TO A KILL": Coming back to the death motif, my top 10 "" actually, it could be top 1,000 "" deaths involve various things that are genuinely scary. Things like clowns, water, sharks and Mabee are definitely on the list; butterflies are definitely not on the list. But the villain, a blonde and psychotic Christopher Walken (what else could he have been?), should have had butterflies on his list.
#002 "CASINO ROYALE": Most of Trinity's population is already aware of my incredible manliness, so I don't feel it's necessary to reiterate the point. Daniel Craig comes up from the water wearing nothing but a tiny speedo. Reminiscent of Honey Ryder, it's an image that borders on something god-like. It is the epitome of my high school nickname, Sexy and Deadly.
#001 "CASINO ROYALE": A lot of people were wary of the 2006 reboot and the new, unfamiliar James Bond. The realistic, gritty rooftop chase scene in the opening proved that the new direction of the series was here to stay and to take names and kick ass.
Thanks to Monica Clifford! Monica   "" a sophomore, communication and history major, unofficial Bond Spokeswoman and all-around awesome nerd "" was very helpful in providing me with invaluable material from her disturbingly vast and detailed knowledge of the James Bond films. Monica's one wish in life is for everybody to start watching the NBC comedy "Community."
Leave a Comment