Q&A with Monica Saenz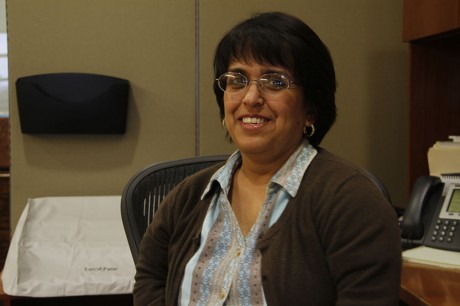 Monica Saenz, administrative assistant for the university communications department, is well known around campus as the name attached to the daily list of campus events, "LeeRoy," which she co-edits.
Q: What did you do before coming to Trinity?
A: I worked at the zoo as a membership coordinator.  I began as an administrative assistant here, but they gave ["LeeRoy"] to me and Russell Guerrero, the co-editor.
Q: What about Trinity made you interested in working here?
A: When I was working at the zoo, my coworker found a job here and she really liked it, so she told me to come to Trinity.  I haven't left yet, and that was 15 years ago.  I started off in the chemistry department as a secretary for a distinguished professor, and after three months, there was an opening in the university communications department, so I moved here.
Q: What does your job entail?
A: As the administrative secretary, I do the  office's budget, I pay the bills, I am in charge of the media databases and I have to proofread a lot of stuff.  I have one student who helps me, Josephine Cortez Ayala.  Every morning, I get new submissions in, I look them over, I put them in "LeeRoy" format, and I make sure to proofread them. Josephine then puts them in the Word document and, from there, it gets proofed.  Then I put them in HDML so they can be sent out.  It gets very nerve- wracking sometimes because I'll wake up in the middle of the night, at three o'clock in the morning and have to remember if I sent out the right one.  One time, I sent out two in one day.  It goes out to over 3,000 people, so I get a little nervous.
Q: How has your experience been working here at Trinity?
A: I love it.  When I first started looking for a job, I told human resources that I wanted a job where I could just retire""I hope this one's it.
Leave a Comment