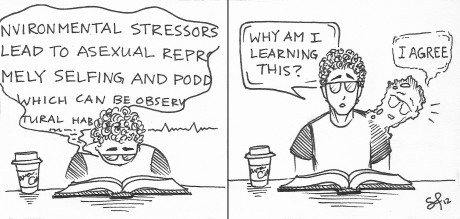 As the old saying goes, time flies when you're up to your eyeballs in extracurricular activities, required readings, lab assignments and group projects, and "" despite our best efforts to remain in denial "" the end of the semester and finals are upon us.
So as we prepare to make our way to the library and resign ourselves to no sleep and hours with our noses buried in books or staring at a computer screen, we offer up this issue as our holiday gift to you "" a way to distract yourself from the impending doom that is finals or the apocalypse, whichever comes first.
There's a guide to Oakmont with important information about which house won in the battle to serve tamales and hot cocoa this Sunday (Page 13), a guest column by Edwin Blanton on how to give back during the holiday season (Page 15), a lively discussion about whether Trinity should deck the campus in holiday lights (Page 16) and a step-by-step tutorial to help you create the perfect awkward family photo (Page 15).
If you survive finals/Armageddon there's also the first issue of the year to look forward to on Jan. 25. We won't be publishing an issue the first Friday back because we're doubling our efforts in preparation for the second annual Best for Trinity issue, a  guide to all of the best businesses that cater to our community and "" we hope "" a special showcase complete with freebies. Check back in January for more information on the event, and be sure to cast your vote by filling out the questionnaire on Page 8 or going online to trinitonian2020redesign.mystagingwebsite.com.
After covering everything from the Greeks to Jurgens to West Nile Virus and a Bell Center bandit this semester, we can't wait to see what next semester will hold. You can expect more multi-platform journalism ventures through cooperation with TigerTV and other on-campus media sources, an extended web presence and more in-depth feature articles, along with a continued commitment to graphic design, special sections and reports on controversial campus issues.
But until then, all of us here at the Trinitonian, would like to wish you a happy Hanukkah, Kwanzaa and New Year. Feliz Navidad!