"Rain Came to Mayfield" dissects identity, family, racism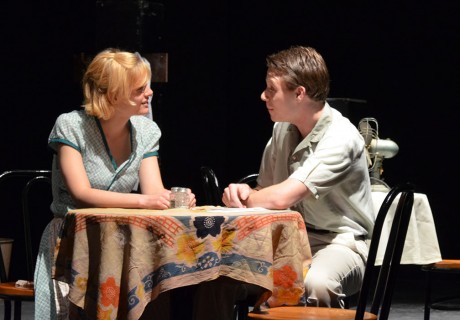 Tonight and tomorrow night in the Attic Theatre "And the Rain Came to Mayfield" premieres, a student production tackling themes of identity, family and racism in a small town in 1960s Mississippi.
The play, by Jason Milligan, concerns a decisive day in the life of the protagonist, Carl, played by senior Will Schmidt, whose progressive ideas and desire to attend college conflict with his father's traditional values. Carl's subdued sentiments are forced to the surface when he allows a passing Black college student named Nathan, played by first-year Anassi Omete, to take shelter from the rain inside his family's diner. In the historical setting, the stigma of racism is what turns the plot.
However, far from a simply moralistic drama declaiming the evils of racism, "Mayfield" develops the struggle of those who cannot accept their own truths, much less ones about the world. Carl's father Jack, played by senior James Jarrott, represents this tragedy in his overly ambitious campaign for mayor to regain his high school glory days, aside from other unsavory issues of alcoholism, racism and an unwillingness to support his son in his desires.
"It's so sad to see a character that just doesn't see his fundamental flaws, but that's what makes him a character," Jarrott said.
Carl's mother, Emma, played by senior Emma Baker, is more sympathetic to her son's beliefs but can only go so far to support him, especially against her raucous husband. Her dilemma is evident on her face and in her voice when she submits to Carl's insistence that Nathan be allowed to sit in the diner.
"She's just too much a product of her generation and her own innate warm-heartedness is often at odds with her inherent prejudice," Baker said.
Overall the cast demonstrates a great sensitivity towards their respective characters' motivation, beautifully expressing the generational conflict between conservatism and progressivism central to senior director Redding Baker's vision for the show.
"You're not born conservative, you're not born progressive; these are things that we develop ourselves as we're influenced by our loving parents − or our abusive parents," Baker said.
"Even though racism is a big part of it we don't want that to be the central focus," said senior Tiffany Prasifka. "we want it to be the family and the identity of both Nathan and Carl."
Another innovation of the playwright which raises the stakes and makes the struggles of the characters more complex is the fact that the character of Nathan is based on the historical figure James Meredith, the first Black man to attend the University of Mississippi. However, while Carl envies his fortune, Nathan reveals he only went at the urging of his father, and unlike his enduring historical counterpart, he is leaving the school following the vicious discrimination he encountered there.
"The twist of it is that even though we want two completely different things, we're both driven by the same background because we're both forced to do something we don't want by our fathers," Omete said.
Even actors with limited stage time in the drama were committed to their roles. Among these are senior Tiffany Prasifka as the town gossip, Mavis, sophomore Lisa Ashby as Carl's potential love-interest, Dixie, sophomores Brady Iba and Joe Ricondo as Nathan's bodyguards and Kyle Barbre as a man asking for directions amidst the drama.
One of the most entertaining aspects of the show is the Southern accent in the script, which some actors have trouble abandoning on breaks. Overall a collaborative and fun environment surrounded the cast, crew and director during their final run-through of the show before opening night.
"It's really exciting to work with actors who think what we're doing is important and that we have something important to say, and I wouldn't say that anyone in the cast doesn't feel that way," said director Redding Baker. "I've learned that at the end of the day the one thing I love about theatre is that perfection doesn't exist, there's no such thing as a perfect show and that as long as everyone is doing their best then the work will be good."
Show times are tonight and Saturday night at 8 p.m. in the Attic Theatre; admission is free.
View Comments (1)