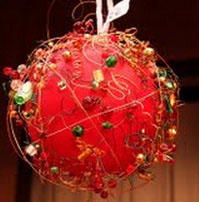 With rich hot chocolate, warm holiday cookies and a vast assortment of decorative holiday ornaments on hand, the only thing keeping the Ruth Taylor courtyard from becoming a true winter wonderland this Friday afternoon is a lack of snow.
The Trinity Staff Engagement Committee's second annual holiday ornament decorating contest begins at 3 p.m., Friday, Nov. 30, in the Ruth Taylor Courtyard, and everyone is invited to come out and see the holiday creativity of participating staff members of Trinity University.
"The decorating contest is a favorite endeavor of TSEC because it's out there in front of the public. We do a lot of things behind the scenes for staff to enhance the staff environment here, but this one is out there for everybody," said Deborra Finlan-Cardenas, TSEC president.
The rules for the holiday ornament decorating contest are simple. Each entry must incorporate a six inch Styrofoam ball, and all entries must be able to hang for display purposes. Decorated balls must be delivered to TSEC no later than 5 p.m., Thursday, Nov. 29.
There are four categories for this year's contest: most traditional holiday ornament, most  Trinity-themed ornament, most creative ornament and best handcrafted ornament. Students, faculty and staff can vote on the ornaments, and prizes will be awarded to the ornament receiving the most votes in each category. The ornament receiving the most votes overall will earn a best of show prize.
Mindy Morales, computer aided drafting technician for Campus Planning and Sustainability, won the best of show prize in last year's inaugural contest with her festive wire and bead ornament, and she decided to use her winning ornament to embrace the holiday spirit of giving.
"The Styrofoam balls are very large, and they are very heavy once they are decorated. I knew that my family never has a tree large enough to support a decoration that big, so I decided I could auction it off with the proceeds going to Cat Alliance," Morales said.
Morales is looking forward to the process of creating a new ornament for this year's contest, but is still trying to determine the design.
"I would like to participate this year, but I don't have ideas yet. For me, inspiration comes when I sit down in front of the Styrofoam ball and a box of craft supplies or maybe on a trip to Hobby Lobby," Morales said.
Brenda Black, administrative assistant in the Office of the Vice President for Faculty and Student Affairs, submitted a blue holiday Barbie ornament for her entry in last year's contest. Black's theme for her ornament this year is candy. She is excited for the holiday ornament decorating contest, and she is also eager for other Trinity holiday traditions coming up.
"I love both the Christmas Concert and Vespers.  Both events touch my heart spiritually and usually bring me to happy tears.  I love the huge gatherings and audience participation for both, and the candle lighting during Vespers is breathtakingly beautiful," Black said.
As for Cardenas, she enjoys how the holidays really bring out the caring, generous attitude of the university.
"I think Trinity has a great spirit amongst its members here within the community," Cardenas said. "The spirit to give and to make life better for each other is a quality among the Trinity people here that is incredibly special and heartwarming."