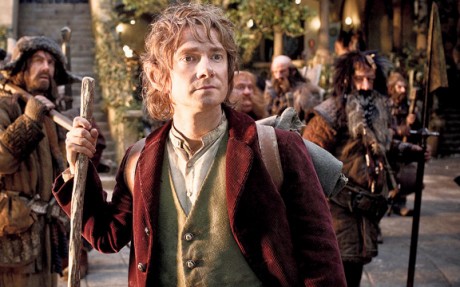 After being home for the holidays for a few days, you get sick of your parents and an excuse to get out of the house is always welcome.  It's great to have no class, but you need to escape the confines of your childhood home.  Catching a movie is a great option to fulfill this desire, and, luckily, many great movies are released this time of year.  Here is a quick guide to some of the movies generating hype this holiday season:

"The Hobbit" (Peter Jackson) "" Dec. 14
If you liked the award-winning "Lord of the Rings" trilogy, you are in for a treat.  And even if you haven't seen the previous films, you can start with this one.  This is the story that begins it all, taking place before the events in "Lord of the Rings."  This film follows the epic journey of Bilbo Baggins as he is swept away on a quest to regain the Dwarf kingdom of Erebor in the company of 13 dwarves and Gandalf the Grey.

"Zero Dark Thirty" (Kathryn Bigelow) "" Dec. 19
This drama depicts the story of "history's greatest manhunt" for Osama bin Laden.  In this highly anticipated movie, America gets its first glimpse of Hollywood's adaptation of the elite intelligence and military operatives that worked to catch the "world's most dangerous man."

"The Guilt Trip" (Anne Fletcher) "" Dec. 19
This comedy is about an inventor who travels with his mom to sell his latest invention.  With an interesting cast combo "" funny man Seth Rogen and the legendary Barbara Streisand "" this should make for an amusing film.

"This is 40″ (Judd Apatow) "" Dec. 21
From the director of "The 40-Year-Old Virgin," "This is 40″ is a comedy continuing the story of the blockbuster hit, "Knocked Up."  This film reveals how Pete (Paul Rudd) and Debbie (Leslie Mann) are dealing with their current lives "" including a hilarious take on their marriage, kids and work.

"Jack Reacher" (Christopher McQuarrie) "" Dec. 21
This is the newest dramatic film featuring Tom Cruise. The audience is presented with a mystery/suspense about Jack Reacher (Cruise), ex-military sniper turned investigator who uses his specialized skills to dig for the truth in a previously "slam-dunk" case and beat the bad guy.

"Les Miserables" (Tom Hooper) "" Dec. 25
Based off of the world's longest running musical, "Les Misérables" is an intense drama that takes place in 19th-century France, with themes of unrequited love, sacrifice and redemption.

"Django Unchained" (Quentin Tarantino) "" Dec. 25
Starring Jamie Foxx as Django, a slave with a brutal history, this film takes place in the South two years before the Civil War.  Dr. King Schultz (Christoph Waltz), German bounty hunter, needs Django to lead him to his bounty, while Django remains focused on finding his wife (Kerry Washington) lost in the slave trade.

"Promised Land" (Gus Van Sant)"" Dec. 28
From Gus Van Sant, director of "Good Will Hunting" and "Milk," this drama depicts a conflict between big business and small-town community.  Steve Butler (Matt Damon), corporate salesman, and Sue Thompson (Frances McDormand), take on the difficult task of closing the company's expansion plans in a small rural town.

"Gangster Squad" (Ruben Fleischer) "" Jan. 11
With a cast of talented actors (including Sean Penn, Ryan Gosling, Josh Brolin and Michael Peà±a), Fleischer brings us a story of the battle between Brooklyn-born mob king Mickey Cohen (Sean Penn) and a secret group of LAPD officers led by Sgt. John O'Mara (Josh Brolin) and Jerry Wooters (Ryan Gosling) in Los Angeles in 1949. Think of it as a thriller with a noir feel.