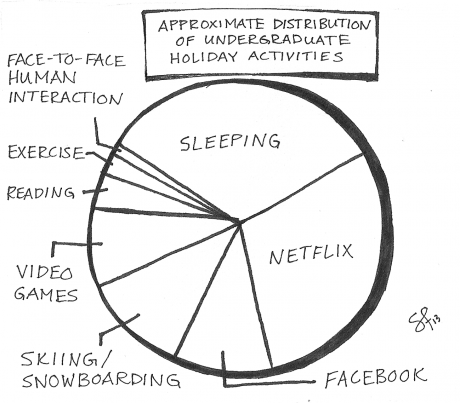 This issue marks the second coming of "Best for Trinity," a Trinitonian-sponsored event that aims to connect local businesses and service providers with the Trinity community (see Pages 13-16 for the results). Since its creation last year, the project has grown immensely both in scope and vision.
We expanded from 16 categories in spring of 2012 to 22 categories and increased participation among community members by collecting more than 200 responses from members of all class years, staff members, faculty and administrators.
The responses varied, reflecting the different interests of our community, but in some categories there were clear favorites featuring time-tested businesses that have made their way into Trinity tradition. For example, Taco Taco, a local hotspot frequented by college students for their affordable and delicious grub, won in three categories: first for Best Mexican Food and Best Hangover Food and third for Best Restaurant with a View.
Their winnings might not come as a surprise to anyone who's ever witnessed the family-owned taqueria on Hildebrand Ave., but it may seem unusual when considering the nature of a university. We, as students, are a transient population. We're here for four (or maybe more, if you plan on a victory lap or one of the masters programs) years and then we disperse. The make-up of our population is always changing. We're also not considered to be a particularly wealthy group because we haven't yet begun to make a living. Yet, the businesses surrounding Trinity will be the first to tell you that we have an incredible amount of purchasing power and they all want our dollar.
A different example is WB Liquors, the newest go-to place for all things alcohol that opened last fall. WB swept the competition in the category for Best Liquor Store, snagging first place. How is it that a relative newcomer has already become a Trinity favorite when it hasn't been around as long as some of the other winners?
We'd like to think it has something to do with advertising in the Trinitonian, but it's also because of the way that our Trinity culture works. The benefit of being in a small community is having members to rely on for trusted referrals and reviews. So consider this special Best for Trinity issue a more formal compilation of those personal recommendations and also consider the power you have as a community member to impact both tradition and the local economy.
After we tabulated the results, our advertising team set out to distribute the certificates to the winning businesses. The response from both long-standing favorites and newcomers  was overwhelming. On more than one occasion, they described the award as being "a huge honor," and almost all mentioned the desire to become more a part of the Trinity community.
Your vote matters and you have the opportunity to find the next new place, your new place, but also the opportunity to take part in tradition by continuing to patronize a Trinity favorite… and be sure to let them know you are from Trinity so they continue to cater to our needs as a university population.
Now, we invite you to attend the Best for Trinity showcase this Wednesday, Jan. 30, to meet the people behind the businesses, snag some coupons and free swag and chow down on some of the delicious food that really is""according to all of you""the best.