Business administration and political science departments lead trip to Vietnam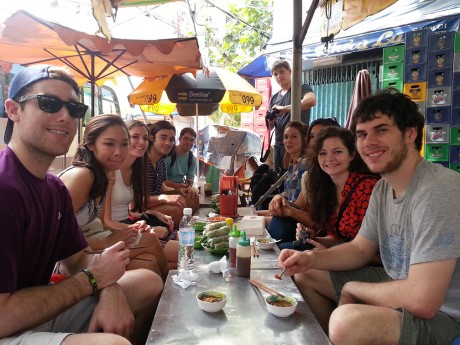 During the last two weeks of this year's holiday break, 16 Trinity students chose to spend their time away from home, traveling through the southeast Asian country of Vietnam to learn about its growing economy.
The trip, titled Globalization and Economic Development: A Case Study in Vietnam and organized by the business administration and political science departments, was in its fourth iteration this year as professor of political science Katsuo Nishikawa and professor of business administration Mario Gonzalez-Fuentes led students to experience a culture entirely different from that found at Trinity.
"The trip was born by the initiative of Richard Burr, Jorge Gonzalez and Felicia Lee. The first group of students who participated visited Vietnam in January of 2010 and, since then, the program has taken more than 40 students to study the economic and political evolution of this country," said Gonzalez-Fuentes, who was invited to participate in the program for the first time this year.
The general purpose of the trip was to give students an opportunity to learn firsthand about the economic, political and social differences between Vietnam, a developing country, and the United States. Students traveled through Vietnam from Jan. 2 to Jan. 16, starting in Ho Chi Minh City and ending in Hanoi.
As students traveled through Vietnam, they were required to interact with the culture in various ways, from visiting sites associated with Vietnamese history and the Vietnam War to interviewing local hawkers in a marketplace. Students also had the opportunity to meet and interact with various locals who could provide insight into different aspects of Vietnamese living.
"Students had the opportunity to meet with various individuals living in Vietnam, including Victor Luu, a Vietnamese-American entrepreneur who has had the opportunity to start up several projects in Vietnam, Melissa Merryweather, from Green Consult Asia, a company that offers advice on sustainable and energy efficient building, and Dr. Ginger Davis, a scholar, book author, and historian residing in Hanoi who has also been a professor at Vietnam National University and Bach Khoa University," said Nishikawa, who first joined the program in 2011.
The students, who come from a variety of different majors including art, business, computer science, political science, and international studies, believe that they were afforded an amazing opportunity, with something exciting for everyone.
"All of the events and activities were incredible. We did a lot of sightseeing and got to take advantage of learning about another society's way of life, and I feel like this trip really helped us all step out of our comfort zones and be a bit more open-minded," said Madison Wallender, a senior majoring in international business with a double minor in economics and Spanish.
Beyond immersing students in a culture completely different than the one they might have grown up with, the intensive, hands-on setting benefits students in interesting ways, according to Gonzalez-Fuentes, who also participated in the business administration and Spanish departments' annual summer course in Madrid, Spain.
"There are so many benefits to students of traveling and learning internationally that I do not know where to begin, but I would undoubtedly highlight three benefits: first, the development of a global mindset through the understanding of how different countries cope with modern challenges; second, building tolerance and respect for cultures different than yours; and third, living an intense experience with other students can build character for a lifetime," Gonzalez-Fuentes said.
Gonzalez-Fuentes and Nishikawa are "extremely satisfied with the results" of this year's course in Vietnam.
"We had a very eclectic group of students from different majors," Gonzalez-Fuentes said. "I truly believe that the program's itinerary had something that was of interest for each one of the fields represented in the group."
Leave a Comment