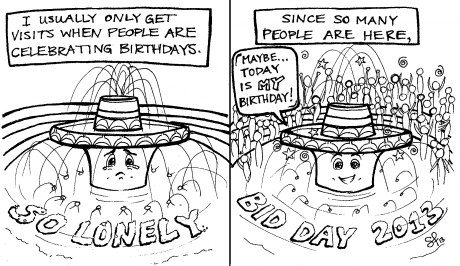 Parking is a regular concern among college students everywhere, not just those of us at Trinity. And while we will admit we have it pretty good in some areas (such as the price of parking permits""other colleges charge hundreds of dollars a year), we feel we speak for our peers when we say there's always room for improvement.
Inspired by this week's article on Laurie Auditorium (see Page 5) and the Trinity University Police Department's stream of emails announcing yet another naturalization ceremony, elementary school visit or concert, we at the Trinitonian would like to encourage dialogue surrounding the issue of on-campus parking.
After doing our homework, we were surprised to learn that the little maroon decal in the top corner of your windshield does not guarantee your vehicle a place on campus. According to TUPD's parking policies, which can be found online, "the registration of a vehicle on campus does not guarantee a parking space but affords the registrant the opportunity to park in authorized parking areas when parking spaces are available."
On any given day, finding a spot usually isn't a problem, but as the policy also notes, "special events may cause temporary disruption in parking arrangement on campus for persons parking registered vehicles."
We can speak to this claim based on personal experience. In addition to causing parking problems, delays and confusion, the events cause disruption to learning and pose safety risks. The noise that resonates from mid-day music rehearsals or the many visitors waiting outside in the hallways often affects classes being taught in the Richardson Communication Center. It's also not unheard of for students to drive around for more than 20 minutes looking for parking, only to come late to class, interrupting the learning process for all.
We understand the value these events have in terms of building bonds with the San Antonio community and can appreciate the revenue afforded to the university, but we also feel that the university's primary obligation and purpose is to educate, and when those events impede student and faculty's ability to get to class on time, study and stay engaged, we think it's time to consider a compromise.
According to Sean Solis, chairman of the parking and traffic committee and vice president of the Association of Student Representatives, "a good way to start the conversation" is by emailing [email protected].
Our own suggestions include reserving the Laurie Auditorium parking garage for university community members when off-campus events take place during the day, and only allowing those with a university-issued ID to enter the garage.
We also want Trinity community members to weigh in, especially those with a different point of view. Write us a letter or visit www.trinitonian2020redesign.mystagingwebsite.com to vote in our online poll: "Should ASR and the administration address the issue of parking during special events on campus?"