Swing dancing a way of life for Trinity dance groups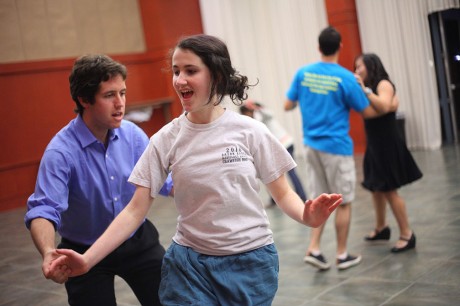 During his sophomore year of high school, James Regan's gym class consisted of alternating weeks of social dance and weightlifting. Despite the odd combination, the social dance component, along with his involvement in his high school's jazz band, initiated Regan's interest in swing dancing. Now the Trinity sophomore is an active member of the Trinity Swing Bums, and he has fully embraced the swing culture.
"My RM was Connor Gorman, who was at the time the president of Swing Bums. It was easier for me to go because I already knew someone. It made it more comfortable for me to go even though it was kind of scary to me because I figured that everybody would already know how to dance, but it just seemed like something that was really fun. I'm not really entirely sure why I am so drawn to it, but something about it really appeals to me," Regan said.
According to Regan, Trinity alumni Laura Glaess and her husband, Mike Roberts, started the swing dancing club here at Trinity. Laura and Mike are now professional swing dancers who travel to various locations teaching dance and competing in competitions. The husband and wife duo returned to Trinity last year for the Swing Bums' Founders' Fling dance to provide some instruction and socialize with the current Swing Bums.
On average, the attendance of Swing Bum dances is between ten to twenty people. Regan said that the first few classes this year were really big, but as the year goes on and exams approach, the numbers tend to dwindle.
After having lost multiple senior officers of Swing Bums last year due to graduation, the club is rebuilding itself with new members, one of whom is first year Zach Tuten.
"I like having the opportunity to be in a dance club because I never had that chance in high school. Swing Bums is kind of in a reconstruction phase this year since a lot of the seniors in Swing Bums graduated last year, but it's a really exciting time for the club as we see more new faces coming to figure out what Swing Bums is all about," Tuten said.
Regan said that the club welcomes dancers of any skill level, and no partner is necessary to join in on the fun.
"Dancing can be uncomfortable for some people, and we don't want to make that environment at all. You shouldn't be afraid to make mistakes. People think swing dancers have to be very outgoing, but the great thing is that even shy people can find a home in this safe environment we promote," Regan said.
Sophomore Camille DeMars thinks that the positive environment of Swing Bum events promotes close relationships for members which let them embrace the spirit of swing dancing.
"Swing Bums is all about dancing and fun. We're big on fostering family and community within the club. All it takes to be a Swing Bum is joy and a willingness to dance and go to dances. You can't be scared to dance," DeMars said.
When asked to define a Swing Bum, DeMars had trouble coming up with an answer because of the diversity of personalities that make up the club.
"There are so many different types of people who are Swing Bums that it's almost impossible to singularly classify a Swing Bum," DeMars said.
First year Bria Woods, who joined Swing Bums last semester, believes that swing is a lifestyle that provides dancers with many practical lessons that they can use outside of dance.
"Not only do I learn about social dancing, but also social engagements. It teaches you a lot about interacting with others in a social context, and I kind of see a lot of parallels in life when I'm dancing with people," said Woods. "It transcends many different realms of reality in my opinion."
In addition to welcoming new members, the club is looking to expand its presence on campus by hosting bigger social dance events.
"Swing Bums is trying to be a little bit more active on campus. There are things that are in the works that aren't necessarily going to happen this semester, but we have ideas for dances for charity and large dances that would take place in like the Great Hall or someplace like that," Regan said.
Free lessons are given by the Swing Bums every Friday from 4 to 7 p.m. in the Bell Center dance room, and the Swing Bums host a free social dance every Tuesday from 9 to 11 p.m. in the Coates University Center Fiesta Room. On Tuesday, Feb. 12, the Swing Bums will have a Valentine's Day and Mardi Gras theme dance in place of their normal social dance. All are invited to attend, regardless of dance experience, and no partner is necessary. Dress for the event is formal.
Leave a Comment