Senior Gift Committee collects donations from graduating seniors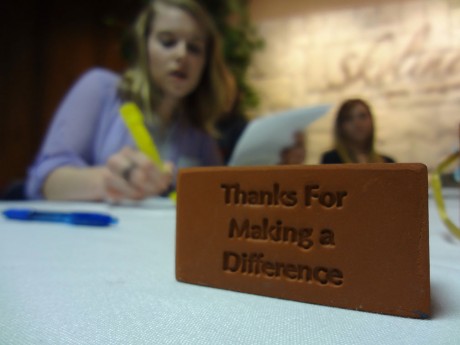 Lately, Trinity's seniors have received several emails and Facebook invitations to activities that are affiliated with the Senior Gift Committee, and many of those same seniors have no idea exactly what that means. Other seniors, like Savannah Allan, have known what the senior gift is for quite a while.
"Senior Gift Committee is something I've wanted to be involved in ever since I joined Student Ambassadors and had a chance to observe the previous committees. I knew coming up with new and creative ideas to promote giving amongst my peers would be challenging, but I viewed involvement with the SGC as a great opportunity for seniors to reach out to fellow seniors and spread awareness about the purpose of SGC," said Allan, co-chair of the Senior Gift Committee. "It also helped that my best friend, Lucy Cevallos, was running for the other co-chair position and I knew we'd make a great team."
Senior Lucy Cevallos, who is the other co-chair of the committee, did not always know about the Senior Gift Committee, but as soon as she heard about it, she wanted to be a part of it.
"My experience here at Trinity has been so valuable the past four years that I knew I wanted to play a role in enabling someone else to have those same opportunities," Cevallos said.
The Senior Gift Committee oversees the fundraising of the senior gift, which is a donation collected from each senior class that goes toward raising scholarship money for an incoming student. Carissa Costello, manager of student calling programs with the Office of Annual Giving Programs, advises the committee.
"It's meaningful in the sense that it provides a scholarship for an incoming first year students as well as the impact on the individual to realize that they can make a difference in someone's future here at Trinity," Costello said.
The tradition, which has existed since 1992, generally asks for a donation that correlates with the graduation year of each class""in 2010, the requested amount was $20.10, in 2011, it was $20.11, and last year it was $20.12. The current record for giving was set in 2011, when 67 percent of the senior class contributed, raising about $7,138. In 2010, only 38 percent of seniors participated, and the Class of 2010's total donation was approximately $3,623. In 2012, 62 percent of the senior class participated, raising a total of $6,164.
This year, the requested gift amount per senior is $20.13, and if every senior participates, the Class of 2013 will have raised the largest Senior Gift fund yet. This year's Senior Gift Committee has set a goal of at least 69 percent participation for the Class of 2013.
"Most people don't understand what the senior gift is all about. When you make your senior gift donation, all of the proceeds are going straight towards this scholarship for an incoming first year. Yes, in addition, you get to leave your mark here at Trinity by signing a brick at the Murchison Tower, but more importantly, you leave your mark by contributing to the college experience of one deserving first year," Cevallos said.
The only aspects of the senior gift that are fixed are where the money goes, which is directly and completely to a chosen incoming first year, and the fact that the amount encouraged per senior is tied to the graduation year of the class.
"The amount of money depends on a number of factors, including senior class participation and donation amounts, creativity and variety of senior-targeted events and awareness. I love that aspect of senior gift because it really puts our class in the driver's seat""we can really raise an impressive scholarship with enough time and effort," Allan said.
The Senior Gift Committee works to remind seniors that many Trinity students have received financial aid in the form of alumni-sponsored scholarships.
"The vast majority of us have benefited from the generosity of others while here at Trinity in some form or another," Allan said.
"Even if you are paying full tuition to attend Trinity, you're only paying about 65 percent of the true cost of the Trinity education. The rest of the funds come from gifts from alumni, parents, friends, and the endowment. Gifts from students of any class show appreciation to those who have led the path before them and offer an opportunity to join that group in leaving a legacy behind," Costello said.
Leave a Comment