Patrick McMillan discusses 40+ years of teaching dance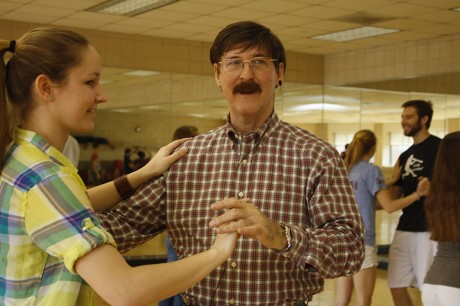 Patrick McMillan, who has been teaching dance as a career since 1972, recognizes that he had been drawn toward dance since he first fell in love with the television program "American Bandstand" during junior high school.
"I kept moving toward instructing as other avenues closed, and I'd always been teaching on the side, so it just made sense. My love of dancing started watching "˜American Bandstand' in junior high. I used to watch with a group of my girl friends, who others called my "˜harem,' and I started teaching my male friends with the help of my female friends," McMillan said.
McMillan grew up in Devine, Texas, where regular weekend activities growing up included going to the local dance halls with family members and visiting with other locals.
"I grew up in Devine, and dance halls were a thing there. The families would go out during the weekends, and we'd all meet at the dance halls with family and friends and neighbors. That's how we do it in the country. We all had our dance halls we liked to go to," McMillan said.
McMillan fondly remembers dancing with his neighbors, girlfriends, his mom and his friends growing up, which constructed a very positive experience overall. Part of the reason he got into teaching social dance (as opposed to other forms of dance) is his memories of these early experiences.
"In social dance, you get to dance with a person, a partner. I grew up with country western dancing and rock "˜n' roll dancing, so that ended up being what I liked," McMillan said.
Dance is more than just a profession for McMillan; it is what he loves to do.
"He doesn't really brag about it or anything but, it's really cool to know that he's danced around the world," said senior Taylor Capps, a member of McMillan's ballroom dance class.
He teaches seven days a week in the San Antonio area, and he has been teaching several different classes to all types of individuals, from private lessons at the Air Force Village I Retirement Home to group classes on "family night" for the San Antonio area home-schooled students, to serving as the artistic director for Trinity's own Ropers Country & Western Dance Troupe.
Alumna Leslie Stryker was a member of Ropers for all four years of her Trinity career and remembers McMillan's influence on the dance troupe well.
"It was just a really fun environment," Stryker said. "There was a big sense of camaraderie and fellowship and that was largely because of [McMillan]."
As director, McMillan choreographed Ropers' dances and set up their performances.
"We showed up and danced and he took care of everything else," Stryker said.
McMillan has been an adjunct professor at Trinity since 1991 and teaches five classes a semester in country & western and ballroom dance.
"It something that I love. I teach seven days and seven nights a week. I love seeing everyone enjoy it, because I get to share my inward passion""which is like a flame that never goes out""with others," McMillan said.
In addition to loving dance, McMillan loves the experience of teaching itself. In observing McMillan's teaching style, he strives to create supportive environment where his investment in people and relationships enhance his classes.
"I love teaching, just like any teacher who wants to share their passion. I can't imagine teaching a subject that some people hate""it's just exciting to see my students get excited about learning dance," McMillan said.
Senior Andreas Jozwiak is currently enrolled in McMillan's ballroom dance course and said that McMillan's teaching style is conducive to beginners.
"He can pull anyone out of the middle of the class and do a completely new move and make them feel comfortable while still teaching everyone else," Jozwiak said.
When asked to reflect upon his proudest moments as a teacher, McMillan thought of several instances, but ultimately came up with one particular memory.
"We (the TU Ropers and Country & Western Dance Troupe) were selected to attend the Nashville Wildhorse Saloon Dance Show in 1997, and that was probably one of the experiences I'm the most proud of as a teacher. The students were proficient in cha-cha, country western and more. We received a letter telling us that 64 million people were attracted to the competition the year we were there, and we were a part of that attraction," McMillan said.
For McMillan, the proudest moment and the most meaningful are separate memories when thinking back on his career as a social dance instructor. The most significant memories tend to "move people emotionally," as McMillan put it.
"One of the stories that sticks out in my mind is when one of my students took a semester of dance knowing that his brother was going to get married and he wanted to be able to dance at the wedding reception. His mother had been after him to learn how to dance and he always backed off," McMillan said. "During the semester, his grandfather passed away and his grandparents had loved to go ballroom dancing. The next summer he attended his brother's wedding. About 30 minutes into the reception, he walked over and asked his grandmother to waltz. Tears flowed down her cheeks throughout most of the dance and then she told him that the dance was the best gift he could've given her. His mother's tears were also flowing, and instances like that are one of the many reasons I love teaching dance."
View Comments (4)